I have been looking for a reason to try making a brown rice salad and this month's Gourmet Dinner Club (GDC) gave me the perfect excuse since I was assigned the side dish. Plus, the theme was Mexican which provided lots of inspiration for a flavorful salad.Here I paired healthy brown rice with black beans, red peppers and avocados in a lime-cumin vinaigrette. I even used dried black beans and was so glad I did as they have a lot more flavor than the canned variety and are so easy to prepare. This would go well with many main dishes including Pork Carnitas which our GDC host made that night.
I figured I must be on to something as another food blogger friend, Tina V, posted a similar recipe on her site, Epicuricloud.com. Tina has some wonderful recipes – I recommend checking out her site.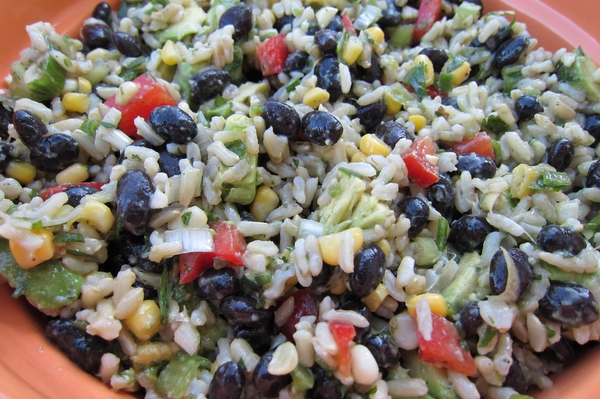 | | | |
| --- | --- | --- |
| Mexican Brown Rice Salad | | Print |
Ingredients
3 cups cooked brown rice, chilled (about 1 cup uncooked brown rice)
3 ears of fresh corn (about 1 cup), cooked (see Notes)
1-15.5 ounce can of black beans (or about 2 cups cooked black beans)
½ large red pepper, diced
4 scallions, chopped
1-1/2 cups cilantro, chopped (about 1 large handful)
1 jalapeno, seeded and finely chopped
2 avocados, peeled, pitted and cut into small cubes
¼ cup fresh lime juice (from 3 limes)
zest from one lime
1 teaspoon agave nectar
1 garlic clove, minced
½ teaspoon cumin
¼ teaspoon salt
¼ teaspoon pepper
½ cup extra virgin olive oil
Instructions
Cook rice and let cool.
Cook corn and let cool. Remove corn from the cob using a knife.
Combine lime juice, lime zest, agave nectar, garlic, cumin, salt and pepper in a small bowl. Pour in olive oil in a steady stream while whisking, until combined.
In a large bowl, combine rice, corn, black beans, red pepper, scallions, cilantro and jalapeno pepper and lime vinaigrette. Let sit for about an hour so the flavors can blend.
Just before serving carefully fold in avocado pieces. Mix well to combine.
Serve cold or at room temperature.
Notes
Cooking Corn on the Cob: An easy way to prepare corn on the cob (especially if you are only cooking a few ears): Shuck each ear of corn. Wrap each ear of corn in wax paper. Place in microwave. Cook on high – 2 minutes for each ear of corn. (2 ears – 4 mins, 3 ears – 6 mins, etc.) Remove from microwave and open carefully.