Christmas just isn't Christmas without an orange in my stocking. It's been that way since I was a little girl and continues until this day.  So when I decided to bring a cheese board to a recent ladies' gathering I thought what better accompaniment to a tasty selection of cheese than a homemade marmalade to celebrate the holidays.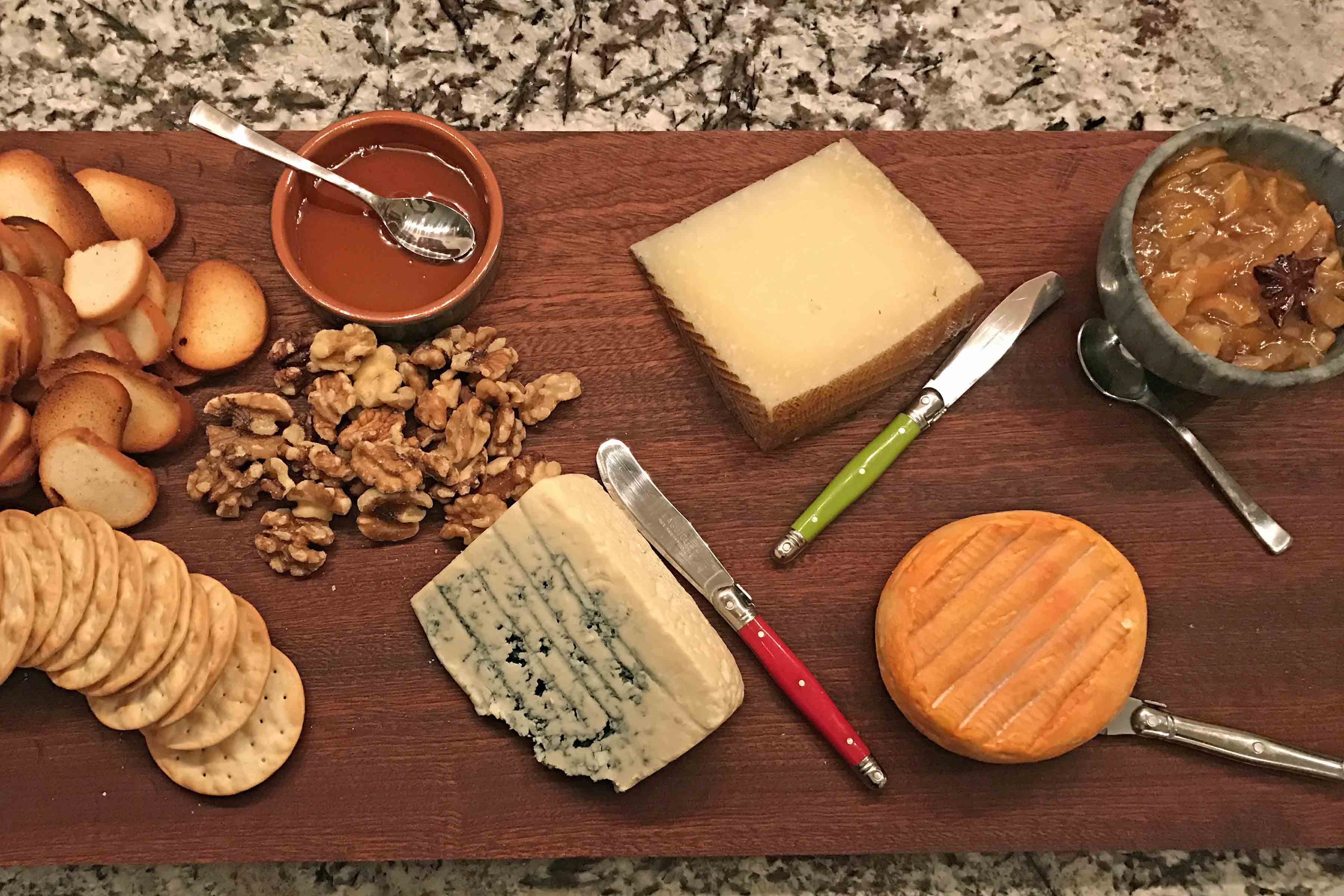 How is marmalade different from jelly or jam? Jelly is made with juice, jam from juice and crushed fruit, and marmalade is juice, crushed fruit and rind. It's also typically made from citrus fruit although marmalade was originally made from quince and dates back to the ancient Greeks and Romans. Typically it's a 1:1 ratio for fruit to sugar based on weight. In the case of this recipe the ratio is a 3:2 for fruit to sugar. A lot depends on the kind of citrus you're using. I chose to use Meyer lemons which are thought to be a cross between a lemon and mandarin orange/traditional orange so they are sweeter than a typical lemon. Plus they have thin skin which makes them ideal for marmalade. I added star anise seeds which have a bit of an anise flavor plus they look fun. Note that they're not edible.
Of course this marmalade would go great on toast or scones. Or add it to a baked brie.
Tips for Preparing a Special Cheese Board:  I have a few very easy to follow rules for a cheese board (or tray) that will impress your friends and family. I like a selection of cheeses – one hard (think cheddar), one soft (think brie) and a blue. I say "think" more so that you know what kind of consistency to go for. For this cheese display I used a Manchego (hard), Wegmans' Holiday in Italy (a soft washed-rind cow cheese) and a St. Pete's Blue. If you want to add a fourth cheese a goat (hard or soft) would be a great addition. Add to the cheese some honey (or honeycomb), nuts, and dried or fresh fruit. If I can, I like to add something homemade such as this marmalade or Cakebread Fig Spread. Garnish with a few fresh herb sprigs if you have them.
If you have access to a wide variety of cheeses I recommend experimenting. Pick a region/country or vary the intensity (mild to strong). I promise that nobody will miss slices of cheddar or Swiss. They might even be surprised to discover a new cheese they've never had before.   
Thanks to Deb B for this wonderful handmade mahogany cheese board. I promise it will get lots of use.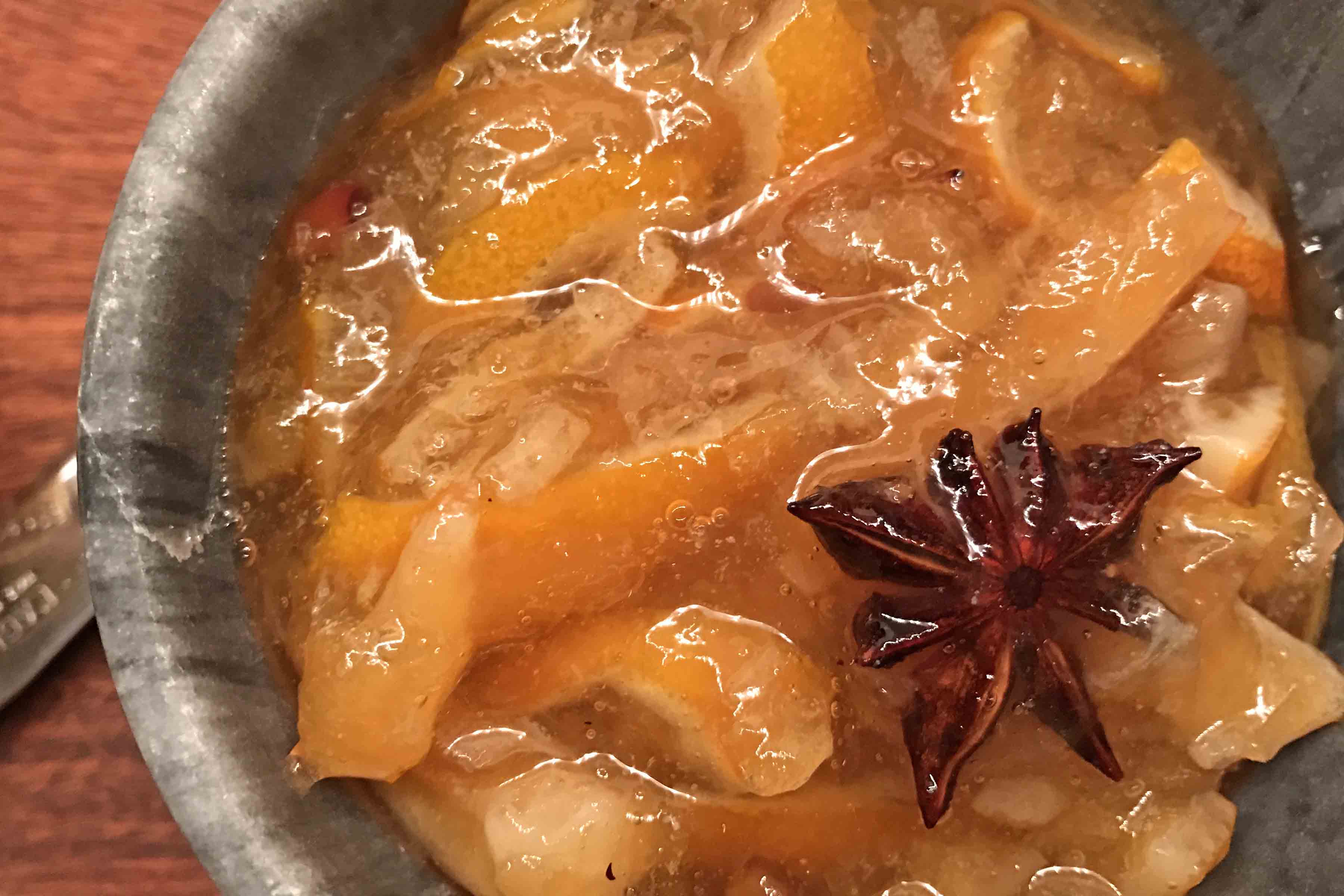 | | | |
| --- | --- | --- |
| Meyer Lemon Marmalade | | Print |
Ingredients
6 Meyer lemons (~ 1 pound)
1 small lemon, zested and juiced
1-1/2 cups sugar
5 star anise seeds
Instructions
Wash Meyer lemons and lemon well.
Thinly Meyer lemons as thin as possible using serrated knife or mandolin, removing seeds as you go.
Stack and slice them into quarters and place them in a 3 to 4 quart pot.
Add zest and juice from one lemon to pot.
Add 3 cups water and bring to a boil. Boil 10 minutes.
Turn heat down to medium and simmer 40 minutes, or until rinds are tender.
Add sugar, stir to combine (don't worry that there's not much liquid). Bring back to a boil. Turn heat to medium so it is gently boiling.
Continue cooking until it reaches 220°F (check with a candy thermometer) about 7 to 15 minutes. Watch it carefully as it could burn quickly (don't walk away).
It will thicken as it cools so don't worry if you still have some liquid at this point.
Let cool to room temperature. Transfer to a container and refrigerate until ready to use.
Marmalade keeps for about a month.
Source:  Adapted from Feasting at Home