The Kentucky Derby is quickly approaching and that means it's time to make some Mint Juleps – the official drink of the Derby. While I'm not a regular Bourbon drinker, I do look forward to the annual tradition of sipping a Mint Julep while watching the first leg of the Triple Crown.
I'm quite fortunate that my dear friend, Embry H, not only designed my website, but also has as fabulous collection of antique julep cups which she graciously polished for our tasting. The allure of the cup – other than being quite fashionable – is that it keeps the drink really cold (some might say too cold – if that's the case wrap a cocktail napkin around the cup) so the ice doesn't melt too quickly. Speaking of ice, Chris H contributed his fancy purified ice for this drink which was perfect as smaller cubes or shaved ice work best.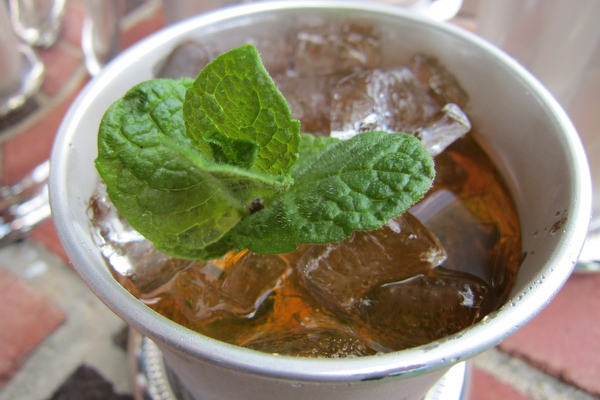 I used the smooth 1792 Ridgemont Reserve Barrel Select Kentucky Straight Bourbon Whiskey which is handcrafted in Kentucky in small batches for this round of drinks. I knew that to be considered Bourbon it has to be made in Kentucky, but I didn't know the derivation of this Bourbon's name until I looked it up and learned that 1792 is when Kentucky became the 15th state. It's important that you stir the drink once all of the ingredients have been added – otherwise you might be accused of serving straight Bourbon.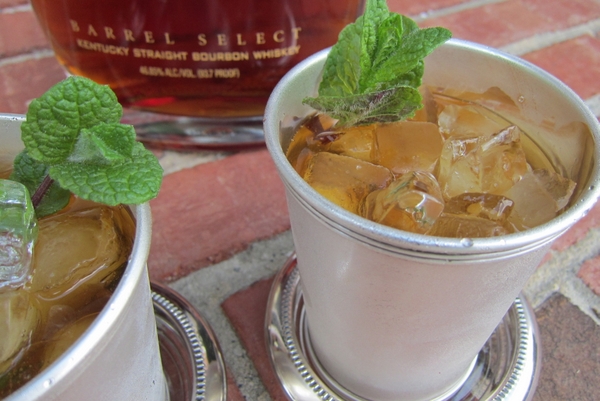 I had so much fun taking pictures that I couldn't pick just one. My favorite features Embry's very own julep cup – a one of a kind, I'm sure!
If you have a lovely julep cup, please share a picture of it with this tasty recipe, preferably wearing a fun Derby hat.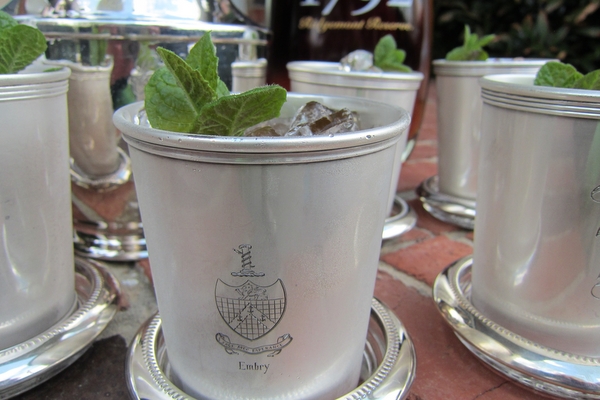 Ingredients
1 ounce simple syrup (see Notes)
8 fresh mint leaves, plus a sprig for garnish
2 ounces high-quality Bourbon
Instructions
Place simple syrup and mint in an old fashioned (or rocks) glass.
Using a wooden muddler or back of a wooden spoon, muddle the syrup and mint together to form a good syrup.
Fill cup with small ice cubes or shaved ice.
Poor in Bourbon.
Mix all ingredients with a spoon.
Garnish with a sprig of mint.
Notes
SIMPLE SYRUP
1 cup (8 ounces) water
1 cup granulated sugar
Bring the water to a simmer in a saucepan set over medium-high heat. Add the sugar and stir until it completely dissolves. Remove the pan from the heat. Set aside to cool to room temperature. Pour the syrup into a clean 1-pint bottle, cap it and refrigerate it until needed. Makes 1½ cups and keeps two months or longer in the refrigerator.