Cranberry sauce was sacred in my family growing up – it's one of the first foods I learned to cook. Every year my mom, sister, Dixie J, and I would make it for Thanksgiving with enough leftover to last for a few weeks. My mom had a special glass jar (maybe a pickle jar?) that had a handwritten label on it identifying it as cranberry sauce (as if there was anything else that bright in the refrigerator?). I love it with the Thanksgiving meal but may enjoy it even more leftover the next day on a turkey sandwich. Turkey on sourdough bread with cranberry sauce and a bit of mayo – yummy!
When I met Ed I was distraught (these things happen to food lovers) to learn that cranberry sauce from a can had been a staple in his family because they had never had homemade sauce. I'm happy to say that I converted them to being "real" not canned, cranberry sauce lovers.
For years I have frozen cranberries to ensure that I have them all year long as you never know when you'll need them. This paid off ages ago when friends invited us for Thanksgiving in July – a going away dinner for someone they knew who had lived in the United States for a few months and was heading home to Europe but hadn't experienced a real Thanksgiving. I was so happy to be able to contribute homemade cranberry sauce due to my stash of frozen berries to this special meal.
This is so easy to make that there's really no reason to serve cranberry sauce from a can. Unless you married someone who can't shake the canned sauce habit (like my sister, Sarah S, did – sorry Colin S, we still love you).
Holiday Tip:  Make this a few weeks before Thanksgiving (or whenever you're serving it) as it will keep refrigerated for a month or so.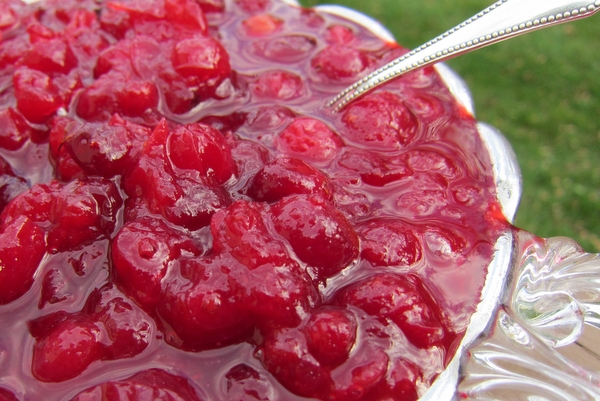 | | | |
| --- | --- | --- |
| Mom's Cranberry Sauce | | Print |
Serves:
Makes about 2-1/4 cups
Ingredients
12 ounces of cranberries (fresh or frozen)
1 cup sugar
1 cup fresh orange juice
zest of one orange
Instructions
In a sauce pan over medium heat, mix sugar and juice.
Stir to dissolve sugar while bringing mixture to a boil.
Add cranberries (do not thaw if frozen) and zest, and return to a boil.
Reduce heat and boil gently for 10-15 minutes, stirring occasionally.
Remove from heat and cool completely at room temperature.
Store in refrigerator for up to a month.
Notes
* Recipe easily doubles or triples.