A bunch of ladies gathering to watch the Oscars calls for a fun and tasty appetizer. I conferred with our hostess for the evening, Wendy H, and we agreed that Mushroom Baked Brie was perfect for this group of ladies. I have adored mushrooms since I was a little girl – Ed loves the story I tell about taking marinated mushrooms in a sandwich bag for lunch when I was in fourth grade!
So, any excuse to cook with them, I'm in. I thought I was pretty good at sautéing mushrooms, too, but these turned out better than any I had ever made. It was definitely the combination of the dried porcinis with the fresh crimini and shiitake – really brought out the "woodsy" taste of the mushrooms. So, don't skip the porcini step!  It's well worth it.
The verdict:  the Mushroom Baked Brie was delicious and many ladies asked for the recipe, so it was a winner (although it didn't get go home with a statue!).
If you have any extra mushrooms, be sure to save them. I served the extra the following night with a grilled filet mignon (also tasty!).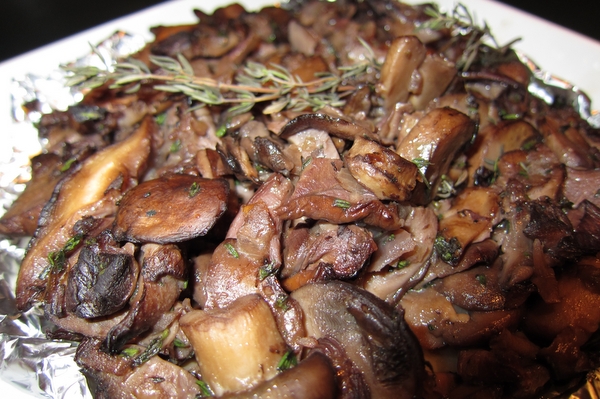 | | | |
| --- | --- | --- |
| Mushroom Baked Brie | | Print |
Ingredients
½ ounce dried porcini mushrooms
⅔ cup dry red wine
2 tablespoons (1/4 stick) butter
8 ounces crimini (baby bella) mushrooms, halved or quartered if large
5 ounces shiitake mushrooms, stemmed, sliced
2 tablespoons minced shallot (about 1 large)
1 large clove of garlic, chopped or minced
2 teaspoons chopped fresh thyme
1 13- to 14-ounce Brie (about 5 inches in diameter)
1 baguette, cut into ¼-inch-thick slices
Instructions
Rinse dried porcini to remove any grit. Place porcini and wine in small saucepan. Bring to simmer over low heat; remove from heat. Let soak until soft, about 20 minutes. Using slotted spoon, transfer porcini to work surface and coarsely chop. Line strainer with damp paper towel; strain wine into small bowl and reserve.
Melt butter in heavy large skillet over medium-high heat. Add crimini and shiitakes. Sprinkle with salt and pepper and cook until brown, stirring occasionally, about 8 minutes. Add shallot and garlic and stir until soft, about 2-3 minutes. Add chopped porcini and strained wine. Boil until almost dry, about 1 minute. Stir in thyme. Season to taste with salt and pepper. Cool.
Using sharp knife, cut top rind from Brie. Stack two 12-inch rounds of foil and fold up around bottom and sides of Brie, crimping foil at edges, leaving top exposed. Mound mushroom mixture atop Brie.
Preheat oven to 350°F. Place Baked Mushroom Brie in an oven proof dish. Bake until cheese begins to melt and mushrooms are warmed through, about 15 minutes. Transfer to plate or serve from the baking dish. Serve hot with baguette slices.
Notes
- Tip: To cut the top off the round of Brie more easily, first place the cheese in the freezer for a few minutes to firm it up slightly. - Do Ahead: Can be made 8 hours ahead. Cover and chill. Bring to room temperature before continuing. - Alternate Plan: If you can't find a round piece of Brie you can use a wedge. (I sometimes find that the Brie that comes as a wedge is higher quality than those that come as a round piece). Omit the foil step and put it in a baking dish and pile mushrooms atop the Brie. Bake as directed above. It may be a bit more "messy" but will taste just as good!
Source:  Variation on recipe from Bon Appétit, March 2009