Living near Kennett Square, the Mushroom Capital of the World, we are fortunate to have access to many versions of mushroom soup. I don't think you can call yourself a restaurant in that vicinity if you don't serve your "signature" mushroom soup. Most are cream-based although I have had a few broth-based versions which have been quite good (I would contend that this is harder to do well).
I've been wanting to make my own creamy mushroom soup but preferred to stay away from adding cream. Enter recipes from Jamie Oliver and Anthony Bourdain which provided the inspiration for this recipe. Start with a variety of fresh mushrooms and add onion, garlic, herbs and a bit of brandy to brighten it up. Finish with a sprinkle of truffle oil.
The key to making this soup creamy is puréeing half of it and adding it back to the remaining soup. The only dairy that is added is one tablespoon of Mascarpone cheese which elevates the soup a notch.  Adding a dash of truffle oil does, too.
The end result is the right balance of creaminess and chunkiness from the remaining mushrooms. This soup is not only mostly dairy free but also gluten-free and wheat-free.
This is the third installment in my 2016 Soup Series.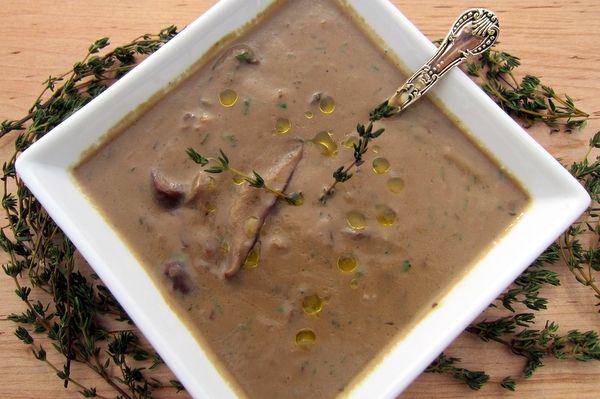 Ingredients
½ ounce dried porcini mushrooms
3 tablespoons olive oil
20 ounces fresh mushrooms (such as chanterelles, shiitake, crimini, oyster), cleaned and sliced
1 red onion, finely chopped
2 cloves garlic, finely sliced
1 tablespoon chopped fresh thyme
sea salt
freshly ground black pepper
¼ cup brandy
1 quart chicken stock
1 handful fresh flat-leaf parsley, leaves picked and roughly chopped
1 tablespoon mascarpone cheese
1 lemon
truffle oil, optional
Instructions
Place porcini in a bowl and cover with 1-1/2 cups boiling water. Let soak for 30 minutes. Strain porcini leaving about 1 cup of water. Chop half of the porcini.
In Dutch oven or soup pot (at least 4 quarts) heat olive oil over medium-high heat. Add mushrooms and stir quickly for a minute.
Add onion, garlic, thyme, salt and pepper. Stir for another minute or until the moisture is released from the mushrooms.
Add brandy and cook for a minute.
Add porcini (chopped and whole) along with soaking liquid. Cook for 20 minutes or until most of the moisture disappears.
Add chicken stock. Raise heat to high and bring to a boil.
Decrease heat to low and simmer for 20 minutes.
Remove half of the soup and purée it in a Vitamix, regular blender or food processor. Pour it back into the pot.
Stir in parsley and mascarpone. Salt and pepper to taste.
Before serving add a squeeze of lemon juice and an optional drizzle of truffle oil.
Notes
* Soup freezes well. Let cool and place in freezer-safe containers.
* Recipe doubles easily – use a 7 quart soup pot.
* I used a Vitamix to purée this soup, so it's smoother than it would be if you use an immersion hand blender, regular blender or food processor. Just in case your version doesn't look like the photo!