Anthony Bourdain recently came out with his first cookbook (Appetites: A Cookbook) in a decade. You may have heard or read some interviews with him during the fall – that's how I heard about it. I decided that it was a good Christmas present for Ed as I knew he liked Bourdain's recipes and no nonsense style. Well, Ed also thought it was a good present idea, too – we ended up with two under the tree. Fortunately we have lots of food lovers in our family so the second copy didn't go to waste.
These are recipes that he's collected over the years with particular attention to ones that his nine year old daughter likes. Having said that I must provide a disclaimer that some of the language he uses isn't suitable for children! In addition to the few recipes we've tried and liked, I love his section on desserts. Basically he thinks dessert is a waste so he only devotes a page to it and why one shouldn't bother. If you must eat something after the main course, go for cheese. While Ed and I do enjoy dessert, we can often be seen eating a cheese plate instead.
I knew that I had to try out Bourdain's chili recipe when I saw that it had no beans. While Ed will eat chili with beans he's partial to meat-only chili. This chili gets its flavor from a few types of peppers, including mild hatch peppers from New Mexico. They have a short growing season and often do get much further from New Mexico when they're fresh, but fortunately you can find them in cans. If you can't find them use the more generic mild green chili peppers found in cans (typically Anaheim chili peppers). Bourdain recommended using a good New Mexico beer – despite my best efforts which included a trip to The Beer Store, I was unable to find any New Mexican beer in Pennsylvania, so I dropped the "New" and went for Modelo Negra from Mexico instead.
This is a very flavorful and not too hot chili. If you know your audience likes hot, you can substitute in some hot Hatch peppers or keep some of the seeds from the poblano or jalapeño peppers.
It turns out that Bourdain and Ed have more in common than not liking beans in their chili, they also both think that ketchup has no place on a hot dog.
Learn more about hatch chilis in Saveur's Inside New Mexico's Hatch Green Chile Obsession.
Gluten-Free/Wheat-Free Option: If you're making this for someone who is gluten-free (not just wheat-free), you can easily use a good quality gluten-free beer. I used Cup4Cup flour in place of all-purpose flour and it worked great.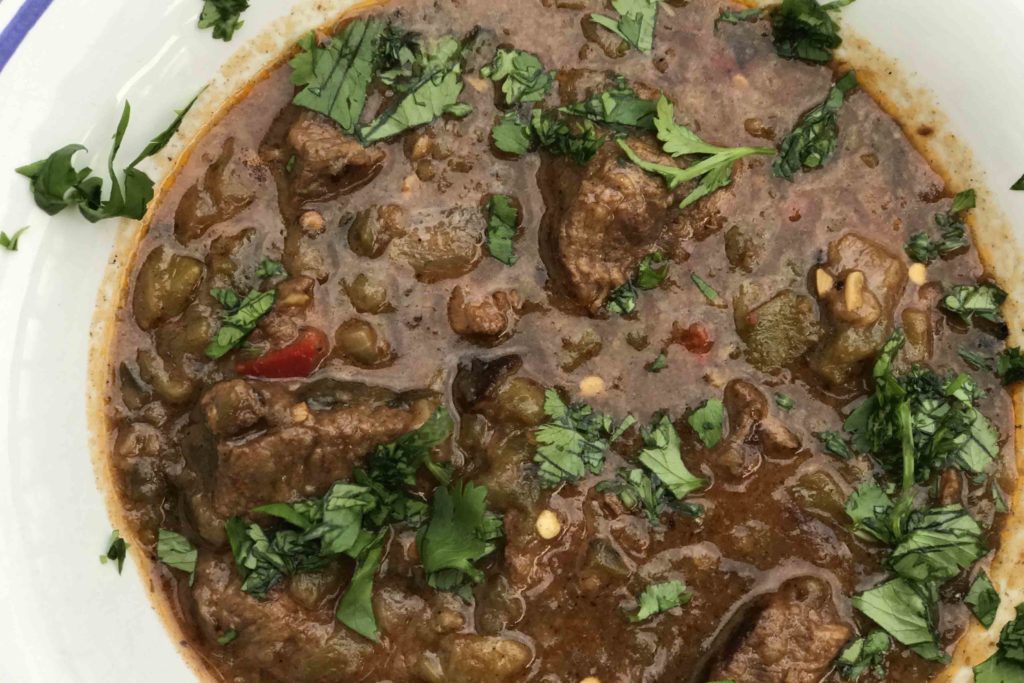 | | | |
| --- | --- | --- |
| New Mexico Beef Chili | | Print |
Ingredients
4 poblano peppers
1 pound (16 ounces) hatch chili peppers (fresh, frozen or canned), chopped
½ cup all-purpose flour or gluten-free flour
2 pounds beef chuck, cut into 1-inch cubes
2 to 3 tablespoons canola oil or neutral olive oil
1 large yellow onion, coarsely chopped
5 garlic cloves, minced
2 jalapeño peppers, seeds removed and chopped
1-1/2 teaspoons ground cumin
1-1/2 teaspoons ground coriander
1-1/2 teaspoons dried oregano
2 tablespoons tomato paste
1 cup (8 ounces) beer
2 cups chicken stock
Chopped cilantro for garnish
Instructions
Preheat broiler and position rack as close to the broiler heat source. Line the bottom of a broiling pan with aluminum foil (this will catch any juices from the peppers). Place poblano peppers on top of the broiling pan. Place under the broiler. Let cook until peppers' skin is blackened, turning peppers with tongs so they blacken on all sides, approximately 10 to 15 minutes.
Let peppers cool until easy to handle. Remove and discard as much of the blackened skin as possible along with the stems and seeds. If you want your chili to be hotter, leave in some of the seeds (source of the peppers' heat). Coarsely chop peppers and set aside.
Repeat this roasting process for the hatch chili peppers if you're lucky enough to find fresh ones. If you're using frozen (no need to thaw) or canned peppers (no need to drain), they are likely already roasted, peeled and seeded. In some cases they are already coarsely chopped, too – if not, then coarsely chop them and set aside.
In a large mixing bowl, whisk together flour and about 2 teaspoons each of salt and freshly ground pepper. Toss beef in the flour mixture to coat. Heat 2 tablespoons of oil in a Dutch oven (at least 5 quarts) over medium-high heat until just smoking. Add beef in batches and sear until dark brown on all sides. Be sure not to crowd beef too much. Remove cooked beef to a plate. Continue to cook remaining beef.
Add onion, garlic and jalapeño peppers to the pot and season with salt and freshly ground pepper. Cook over medium-high heat, scraping the bottom of the pot with a wooden spoon to dislodge browned bits. Add an additional tablespoon of oil if necessary to keep the caramelized bits of onion mixture and beef (know as "fond") from scorching. Cook for about 5 to 7 minutes or until the onion has begun to soften and brown.
Add cumin, coriander and oregano and cook for an additional 2 minutes.
Stir in tomato paste and beer. Bring to a boil and cook until liquid has reduced by about two-thirds.
Stir in stock and return beef to pot. Add reserved poblano and hatch chili peppers. Bring to a boil and reduce heat to a simmer – cook, covered for 2-1/2 hours or until beef is fork tender.
Remove chili from heat and serve in bowls with chopped cilantro.
Notes
* Fresh hatch chili peppers are hard to find – look for them them frozen or
canned
. I found them at Wegmans (they come in mild and hot – use the mild for this recipe).
* Recipe freezes well – let cool to room temperature before placing in freezer.
Source:  Adapted from Anthony Bourdain's Appetites: A Cookbook (2016)