If you're from the south, you know that eating black-eyed peas either just before midnight on New Year's Eve or on New Year's Day will bring you luck and prosperity in the new year. This tradition dates back to the Civil War.
Here black-eyed peas are mixed with cheeses, scallions, cilantro and spices to make a tasty hot dip – perfect for either a New Year's Eve or New Year's Day gathering. These "peas" which are actually beans (legumes) are high in potassium, iron and fiber. All good things (along with luck) to start the new year.
Holiday Tip:  Prepare the dip up to two days in advance and add 10 minutes to the cooking time. Serve this dip with corn chips for an extra dose of luck as corn is considered by some to be "gold," which just adds to your hopes of prosperity in the coming year. I like to put a note next to the dip letting people know that eating it will bring them good luck!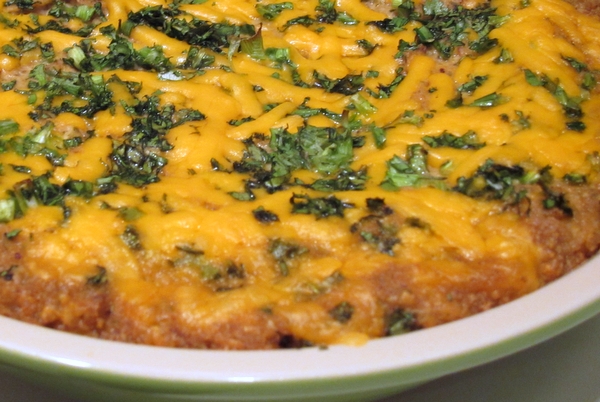 | | | |
| --- | --- | --- |
| New Year's Black-Eyed Pea Dip | | Print |
Serves:
10-12 as an appetizer
Ingredients
2 garlic cloves
2 cans black-eyed peas (15.5 ounces each), drained
3 ounces cream cheese, at room temperature
¼ teaspoon cayenne pepper
1 teaspoon chili powder
2 tablespoons olive oil
2 tablespoons fresh lime juice
1 bunch fresh cilantro (for base and sprinkled on top)
1 bunch scallions (green onions) (for base and sprinkled on top)
2 cups shredded sharp cheddar cheese (8 ounces) (for base and sprinkled on top)
Tortilla chips for serving
Instructions
Preheat oven to 400°F.
Using a food processor, chop garlic cloves. Add black-eyed peas, cream cheese, cayenne pepper, chili powder, a large fistful of both cilantro and coarsely chopped scallions, olive oil and lime juice and process until smooth (adding a bit more olive oil and lime juice as needed).
Add 1-1/2 cups (6 ounces) cheddar cheese and process until smooth.
Season with salt and pepper.
Transfer dip to an 8-inch square or round dish coated with olive oil.
Top dip with remaining ½ cup cheddar cheese and ¼ cup of both chopped cilantro and scallions (green part).
Bake until dip is heated through and cheese bubbles, about 20 minutes.
Serve with tortilla chips.
Notes
* Can be prepared 2 days ahead. Cover and refrigerate. Add 10 minutes to the cooking time.
* Best served with Tostito's Scoops tortilla chips (needs a hearty chip).
* I recommend using a food processor and not a Vitmax or blender for this recipe.