Last night I learned from my Uber driver, Elvis, that he raises Paso Fino horses in the Northern Liberties section of Philadelphia. No, I didn't make it up (my friend, Bryn S, was with me) although I suppose he could create stories to make the time go by (he also has a pet spider monkey). He told me horses are in my blood – and I told him he was right. Little did he know my great-grandfather was a horse trainer and two of his daughters married jockeys. For those who've never seen me in person I'm quite short (4'10-½") and I like to joke that I owe that to the genes that made it possible for my maternal grandfather to have a career as a jockey.
My Great Aunt Jean P owned her own racehorse well before I was born but still held onto memories of that horse by painting her bedroom in her last house (she died at the age of 94) the colors of her jockey's silks. It's her charm bracelet from the 1950/1960s pictured here – as you can see many of her charms are related to horses.
Aunt Jean's love of horses seemed a fitting connection to this drink – the official cocktail of the Kentucky Oaks. This race is held each year the day before the Kentucky Derby to show off the talents of the best three-year-old Thoroughbred fillies (female horses). Yes, it's just for girl horses (although fillies do sometimes participate in the Kentucky Derby). The winner of this race receives a large garland of pink and white stargazer lilies. Both the Kentucky Derby and Kentucky Oaks were first run in May, 1875 within two days of each other. Fun sports fact:  they are the oldest continuously contested sporting events in America. But it wasn't until I met my friend, Embry H, who hails from Louisville, Kentucky, that I learned of the Oaks and it's signature drink.
In 2006, this more feminine drink was created as a contrast to the Derby's bourbon-based Mint Julep. Unlike a Mint Julep it actually has mixer in it and it's pink to reflect the colors in the lily garland. Starting in 2009, for every Oaks Lily purchased Churchill Downs donates $1 to Horses and Hope – a Louisville charity focused on breast and other cancer outreach/treatment in Kentucky's horse racing industry.
This lovely and refreshing cranberry-vodka drink could be enjoyed all year round but has a special place the Friday before the Kentucky Derby (this year that's May 5). Sadly I do not know if Aunt Jean followed the Oaks but I do know that she was an avid Derby watcher. That's just one of the many reasons why the Derby is my favorite sporting event of the year. Watching it makes me think of all of my family members who were horse lovers. Now that I know of the Oaks it's double the fun. Go girl (horse) power!
Entertaining Tip:  This is an easy drink to make in a pitcher if you're having a crowd over to watch the races. Just pour over ice and add the garnishes.
Gluten-Free/Wheat-Free Option:  Ideally this drink would be made using Grey Goose Vodka as the original Oaks Lily was created using Grey Goose (which is wheat-based). If you're concerned about the gluten not being removed during the distillation process, use a gluten-free vodka such as Tito's (corn-based) or Ciroc (grape-based).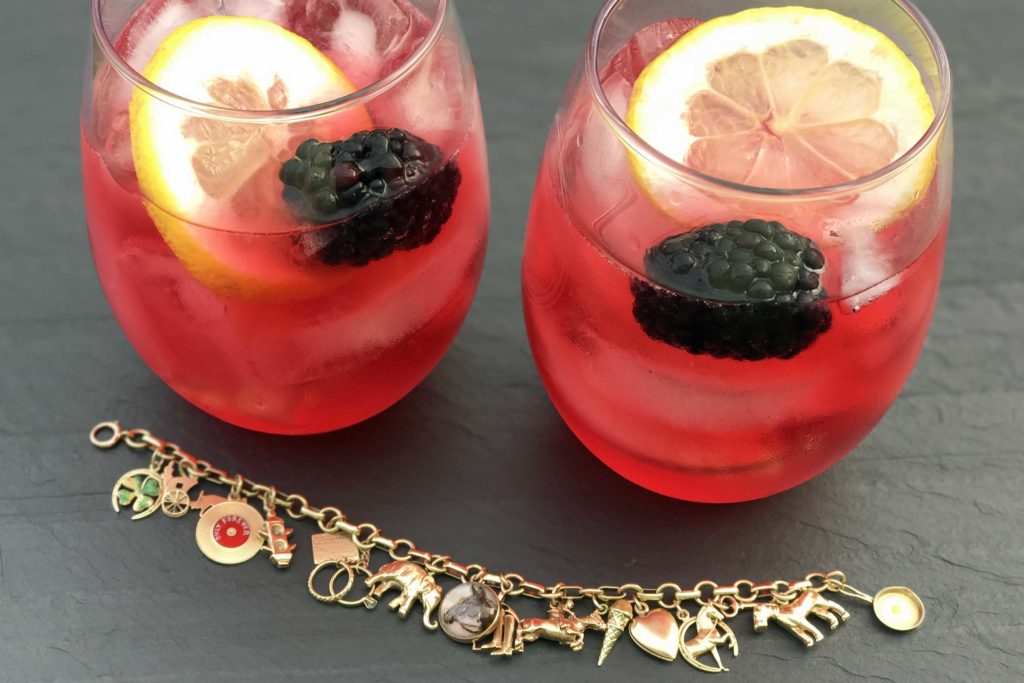 Ingredients
2 ounces vodka
½ ounce freshly squeezed lemon juice
½ ounce simple syrup
3 ounces cranberry juice cocktail
Splash of orange liqueur (such as Cointreau or Gran Marnier)
Garnish: fresh blackberry and lemon wheel or wedge
Instructions
Fill a stemless wine glass with ice.
Add vodka, lemon juice, simple syrup and cranberry juice and stir.
Garnish with a fresh blackberry and lemon wheel or wedge.
Notes
* If you don't have Cointreau or Grand Marnier, you can use triple sec.
* If you're having a party, you can make a big batch in pitcher and pour over ice.
* SIMPLE SYRUP
1 cup (8 ounces) water
1 cup granulated sugar
Bring the water to a simmer in a saucepan set over medium-high heat. Add the sugar and stir until it completely dissolves. Remove the pan from the heat. Set aside to cool to room temperature. Pour the syrup into a clean 1-pint bottle, cap it and refrigerate it until needed. Makes 1½ cups and keeps two months or longer in the refrigerator.