It's finally cold in the northeast! After way above normal temperatures for both Thanksgiving and Christmas frigid temperatures have finally descended upon the Philadelphia area. That means warm coats and soup.
This is a simple soup with just six ingredients – onions, garlic, olive oil, beef broth, beer and cheese. It's a variation on the classic French Onion Soup with the main difference being the addition of garlic and beer. What doesn't taste better with beer?
This is an easy recipe but you need to be patient as slow cooking the onions for 20 to 30 minutes makes the difference. They become really soft and start to caramelize which gives the soup added depth of flavor. Traditional French Onion Soup has a layer of cheese that is melted by broiling or baking it. Here I've added grated cheese just before serving which melts quite quickly assuming the soup is hot enough.
This is the first installment in my 2016 Soup Series. Look for a few more in the coming weeks.
Gluten-Free/Wheat-Free Options: This recipe as is contains wheat/gluten but it is easily adaptable by using a rye or barley beer (for non-wheat eaters – most beers are wheat-free) or a gluten-free beer for those who are strictly gluten-free. You can skip the optional bread or use gluten-free bread for making croutons.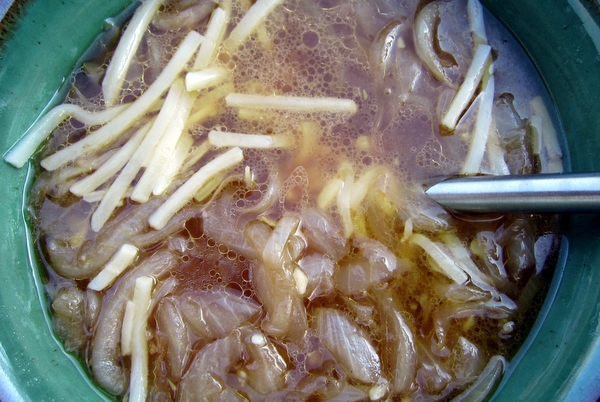 | | | |
| --- | --- | --- |
| Onion and Garlic Beer Soup | | Print |
Ingredients
4 pounds onions (about 6), thinly sliced
4 large garlic cloves, chopped
2 tablespoons olive oil
1 12-ounce bottle of beer (not dark)
5-1/4 cups beef broth
2 tablespoons sugar
1 cup shredded Gruyère, Comte, or Emmental cheese
Accompaniment: crusty bread
Instructions
Heat olive oil in a large Dutch oven (at least 6 quarts) over medium heat.
Add onions and garlic and sauté stirring occasionally, until the mixture is very soft and reduced, about 20 to 30 minutes.
Stir in beer and the broth, simmer the mixture, covered, for 45 minutes.
Stir in sugar and salt and pepper to taste.
Ladle soup into bowls and add shredded cheese.
Serve with crusty bread.
Notes
* While you can slice onions by hand, I like to do them in my Cuisinart (food processor) using the slicer disk. You can also use a mandoline for slicing.
* Soup freezes well. Let cool and transfer to a freezer-safe container.
* Instead of serving with crusty bread you can substitute homemade croutons. Take 4 slices of day-old rye bread (or other bread), remove crusts and cut bread cut into ½-inch cubes. In a heavy skillet melt 2 tablespoons butter over moderate heat, add bread cubes, and cook them, stirring, until they are golden, about 5 minutes. Place on top of soup and cover with cheese.
* Serve with grilled or pan-fried sausage for a simple winter dinner.