Having been wheat-free (or essentially gluten-free) for almost 18 months now I am more aware of recipes (particularly desserts) that are "naturally gluten-free" – meaning I do not have to make any adaptations to suit my dietary needs (or those of my growing group of friends who are in the same camp as me). You'd really be amazed at the number of fabulous desserts that can be made with gluten-free ingredients. I was really excited when I came across this recipe from Jaime Oliver and asked my friend, Marty H, if I could bring it to our next Gourmet Dinner Club dinner.  She was more than happy to comply.
Then I realized I had a lot of math to do!  Being as Oliver is British, the recipe used metric measurements so I had some converting to do. It was so worth it as this was one of the most unique and tastiest cakes I've made. I couldn't stop eating the batter (a treat as you can't always enjoy when you're wheat-free – trying making 28 dozen cookies and you can't eat any of the batter – that's will power). I was even more happy when I had some crumbs off the springform pan that were amazing.  The flavorful and complex syrup that accompanied the cake took it to the next level. Think Baklava but with almonds instead of walnuts, slightly different flavors and no phyllo dough. The texture is coarse due to the combination of the ground almonds (not as smooth as almond flour), polenta and Turbinado sugar.
Bonus Cocktail Recipe:  It is likely you will have some syrup remaining which makes for a great ingredient to a unique cocktail (The Bourbon-Cardamom-Ginger). For one cocktail: 1-1/2 ounces of Bourbon, 1 tablespoon orange-cardamom syrup, 3-4 dashes of Srappy's Cardamom Bitters (optional). Serve over ice and top with Fever-Tree Ginger Ale (or other high-quality ginger ale).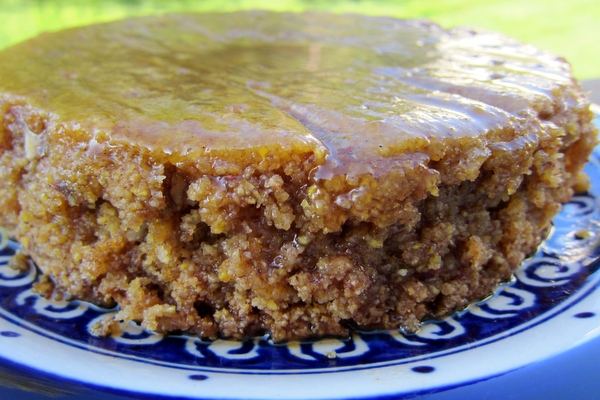 | | | |
| --- | --- | --- |
| Orange-Almond-Polenta Cake | | Print |
Ingredients
15 tablespoons unsalted butter, at room temperature and divided
1 cup Turbinado (raw) sugar
3 large eggs
1 teaspoon vanilla
1 teaspoon orange blossom water
Zest from 2 oranges
7 ounces unsalted almonds with skins, ground
⅔ cup coarse slow-cooking polenta
1 teaspoon baking powder
1 cup orange juice (from 3 to 4 oranges)
2 tablespoons orange blossom water
¾ teaspoon ground cardamom
⅔ cup Turbinado (raw) sugar
Serve with crème fraîche
Instructions
Preheat the oven to 325°F.
Using 1 tablespoon of butter grease an 8-inch springform pan (bottom and sides), line the bottom with parchment paper and grease again. Wrap pan in two layers of aluminum foil.
Using a stand mixer or hand mixer, beat 14 tablespoons butter and 1 cup Turbinado sugar in a large bowl until light and creamy – don't worry if it looks gritty as the sugar will dissolve when it's cooked.
Beat in the eggs, one by one, then stir in the vanilla,1 teaspoon orange blossom water and zest from 2 oranges.
Grind almonds in a Vitamix or food processor. They should be coarse – do not grind too much (you don't want almond butter). In a small bowl, combine the ground almonds, polenta and baking powder, then stir into the butter-egg mixture.
Pour the mixture into the springform pan and bake for 40–50 minutes, until the surface is light brown and the cake is coming away slightly from the sides of the pan.
To make the syrup, place orange juice, 2 tablespoons orange blossom water, cardamom and ⅔ cup Turbinado sugar in a saucepan and simmer over a low-medium heat until sugar is dissolved and the syrup is reduced to about a cup and thickened slightly, about 10 minutes. Set aside to cool.
Remove the pan from the oven, leave to cool for 10 minutes. Run a knife around the cake pan. Remove the outer ring and turn out onto a plate. Remove the bottom of the pan and parchment paper. The cake is quite moist and a little fragile, so handle carefully as you remove it.
When the cake is completely cooled, prick the cake all over with a toothpick or skewer, then brush generously with syrup.
Serve in slices with a dollop of crème fraîche and an extra drizzle of syrup.
Notes
* Cake keeps two days at room temperature.
* You can use white sugar for the syrup but you should use Turbinado for the cake.
* Don't have orange blossom water? Substitute an orange liqueur such as Grand Marnier or Cointreau.
Source:  Adapted from JaimeOliver.com