How many times have you been stuck in the kitchen making mashed potatoes at the last minute so they are fresh for the meal? With this recipe you will never have to do it again. I started making this years ago and have never gone back to the traditional method of making mashed potatoes. There's no trick here – you just do things ahead of time (up to two days prior). You make wonderful mashed potatoes and then put them in a baking dish. About 45 minutes before you're ready to serve them you heat them in the oven. The top gets a bit crusty (think "twice-baked potato") and the inside is perfect consistency.
This recipe is so adaptable. For the holidays I like to use a combination of Yukon Gold and Sweet Potatoes (the color is particularly good for Thanksgiving). And, you can vary the cheese – cream cheese, goat cheese, creme fraiche or mascarpone. I've even used blue cheese and bacon for a particularly wonderful combination. And, I have made them "dairy-free" – I just increase the butter and olive oil.
One of the keys to making perfect mashed potatoes is not over mixing them. This is most easily achieved by using a potato ricer (think large garlic press). It incorporates air into the potatoes making them fluffy without a lot of mashing. I highly recommend investing in one even if you only make mashed potatoes once a year.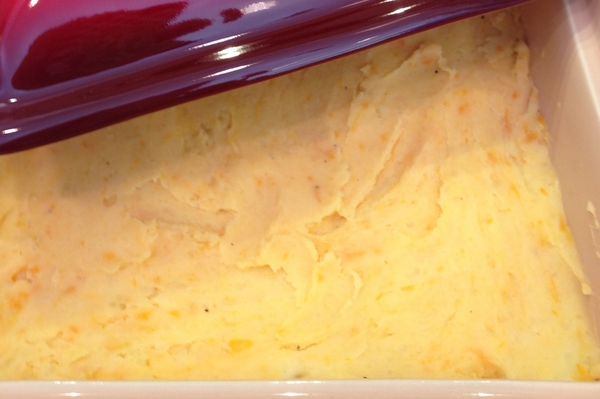 Ingredients
5 pounds Yukon Gold potatoes
1½ pounds sweet potatoes or yams (3 regular sized sweet potatoes or yams)
8 ounces cream cheese, goat cheese, creme fraiche or mascarpone, at room temperature and cut into pieces
6 tablespoons butter, melted
¼ cup milk or half and half
3 tablespoons extra virgin olive oil
Salt and pepper
Instructions
Peel both types of potatoes and cut into 1-inch pieces. Place in a large pot and cover with cold water. Cover and bring to boil on high heat. Turn down to medium heat and cook until potatoes are cooked through and just barely break apart when "cut" with a fork – about 20 to 30 minutes. Drain potatoes.
Mash potatoes using a potato ricer (which is what I use), electric mixer or by hand (or however you mash potatoes) being careful to not over mash them. Using a wooden spoon, mix in cream cheese, butter, milk and olive oil. You may need to add either more milk and/or olive oil to reach the right creamy consistency. Salt and pepper to taste.
Using olive oil, lightly oil a deep baking dish (3-4 quart) and place potatoes in dish.
Preheat oven to 400°F. Bake potatoes uncovered until heated through about 35 minutes (or 45 minutes if refrigerated).
Notes
* Be creative – vary the cheese or additions, such as herbs, meat (bacon, prosciutto) or sun dried tomatoes. You can use all Yukon Gold potatoes, instead of a combination
* Can be prepared up to 2 days ahead. Cover and refrigerate before baking. Or, you could eat them right away without baking them.
* Have other things in the oven that need to cook at another temperature (such as 350°F)? That's fine, just increase the cooking time.
* Can be made "dairy-free" by skipping the cheese and milk and increasing the butter and olive oil.
* These are the perfect potatoes to make for a holiday dinner or large gathering because you can make them ahead, but they taste like they were freshly made.
* Recipe can be adjusted for smaller amounts.