There's still time left for one more pumpkin recipe (besides the requisite pumpkin pie for Thanksgiving dinner, of course). Here I'm focused on pepitas which are the hulled portion of a pumpkin seed. Pepitas are green (and smaller) whereas pumpkin seeds are white (and larger). I had been dreaming of a pepita brittle recipe for some time and I knew that this fall it was going to be on my list to conquer. And conquer I did. This brittle is sweet, salty, buttery and oh so addictive. It makes a lot but believe me you'll be happy (well, your waistline may not be but your taste buds will be) and it's very nice to share. This brittle is great for someone with a nut allergy as many versions contain peanuts or nuts.
A few important notes before you set out to make this yummy confection. You'll need a candy thermometer or instant read thermometer that can read above 300°F – don't try to guess when it's done. You'll also want to use an offset spatula rather than a rubber spatula as it makes it much easier to spread. While you could use regular white sugar, raw or Turbinado sugar imparts a deeper caramel color and flavor which makes this brittle even better.
Pepitas are lovely in many dishes but really shine in this brittle.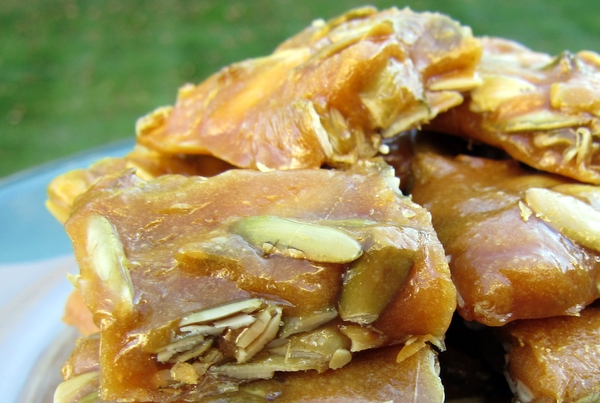 Serves:
Makes 64 to 80 pieces.
Ingredients
4 cups raw or Turbinado sugar
1-1/4 cups water
½ pound (2 sticks) unsalted butter
⅔ cup mild honey
1 teaspoon baking soda
2 tablespoons coarse flaky sea salt (such as Maldon sea salt)
3 cups raw pepitas
Instructions
Line a cookie sheet with slightly high sides with parchment paper so that the bottom and sides are covered completely.
In a large pot (6 to 7 quarts) over medium high heat, stir together sugar, water, butter and honey until the butter and sugar are both melted. Bring the mixture to a boil, stirring down as necessary. You may need to lower the heat to medium if it is bubbling too close to the top of the pan (you don't want it to boil over).
Continue boiling, stirring down when you need to, until the mixture has thickened, darkened slightly and reached 302°F on a candy or instant read thermometer – this takes 10 to 15 minutes.
Remove from heat, add baking soda and stir carefully as the molten candy will foam up quickly.
Stir in salt and then pepitas.
Scrape the contents of the pot into your prepared cookie sheet. Working quickly because the candy hardens fast, use the offset spatula to push the candy around so that it is more or less even in the pan.
For irregular pieces: Once brittle is completely cooled (about an hour) break it into uneven pieces.
For square/rectangular pieces: Let cool for about 10 minutes or until it is set up around the edges and on top. The center will still hold an indentation when pressed gently and carefully with your hand (don't push hard as it will hurt). Carefully move the parchment out of the pan onto a cutting board and score it with a knife while it is still warm and fairly pliable. Let it cool completely before breaking apart where you scored it.
Store the cooled brittle in between layers of parchment in an airtight container at room temperature for up to 4 weeks.
Notes
* You'll need a candy thermometer or instant read thermometer that can read above 300°F and an offset spatula for this recipe.
* Recommend a 15" x 10" or 17" by 11" cookie sheet – the larger the sheet, the easier it will be to break up the brittle.
* I found it easier to make irregular pieces rather than square or rectangular pieces.
* Use a bigger rather than smaller pot to ensure mixture doesn't boil over.
* Recipe can be cut in half – use a smaller cookie sheet.
* Soak pot and utensils in hot soapy water for about 30 minutes for easier cleaning.
Source:  Adapted from http://www.foodiewithfamily.com/