While I cook I like to reminisce about the people who inspired the recipe I'm preparing. Baking these cookies gave me time to think about the women in my life – family and friends – who have been affected by breast cancer and in my own small way pay tribute to them during Breast Cancer Awareness month.
I used a wonderful chocolate chip base that Nigella Lawson created after many attempts (hard work, but someone has to do it!). By melting the butter you get a well-balanced cookie – both thick and moist. I substituted pink chocolate candies (think M&M's) for chocolate chips for this recipe, but I have made them the traditional way before and they are equally wonderful. I also added coarse sea salt to bring out the chocolate flavor – don't skip this ingredient as many people commented on how good it was.  I recommend chilling the dough for at least an hour to ensure that they cookies hold their shape when cooking.
I baked these cookies for two Council for Women events this past weekend at my alma mater, Franklin & Marshall College. They were enjoyed by many (and gone before those treats prepared by food services), but especially by a woman who starts treatments for breast cancer this week. A fitting recipient and I was thrilled when she took two!
Gluten-Free/Wheat-Free Options: You can make these using gluten-free flour (such as Cup4Cup's Original Flour Blend) and they're just as good as the "with gluten version." Chilling the dough is especially important when using gluten-free flour.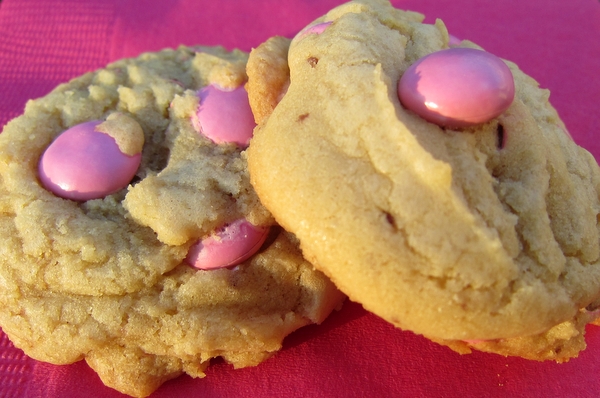 Serves:
Makes 6 dozen cookies
Ingredients
1-1/4 cup (2-1/2 sticks) unsalted butter, at room temperature
1-1/3 cups light brown sugar, packed
1 cup superfine sugar
4 teaspoons vanilla extract
2 eggs, refrigerator cold
2 egg yolks, refrigerator cold
4 cups all-purpose flour
1 teaspoon baking soda
2 teaspoons coarse sea salt
20 ounces pink chocolate covered candies (or 24 ounces chocolate chips)
Instructions
Preheat oven to 325°F.
Cut butter into pieces and place in a microwave-safe bowl. Heat on medium heat for a 2 to 4 minutes until melted. Let cool 10 minutes.
Combine brown and white sugars in a mixing bowl. Pour the butter over the sugars and mix until well combined, about 2 minutes.
Add vanilla, eggs and egg yolks and mix until well combined, about 2 minutes. Batter will be creamy with a caramel color.
Slowly mix in flour, baking soda and salt. Mix until just blended. Fold in chocolate candies (or chocolate chips).
Refrigerate dough for at least an hour before baking. If you refrigerate it much longer or overnight (both are fine) you'll need to leave it out for a half hour or so as it will be too hard to scoop.
Shape into rounded tablespoons and drop 1-1/2 inches apart on a cookie sheet lined with parchment paper.
Bake for 12-14 minutes. Edges should be slightly golden.
Let cookies cool on cookie sheet for about 5 minutes then transfer to racks to cool completely.
Notes
* This cookie freezes well.
* Make this gluten-free by using
Cup4Cup
original flour blend.
* I had trouble finding pink M&M's (for years they were plentiful at this time of year) and I didn't have time to order them online. I was able to find pink chocolate covered candies at Wegmans - they worked perfectly.
Adapted from Nigella Lawson's Nigella Kitchen: Recipes from the Heart of the Home (2010)