Last winter we had the pleasure of escaping the cold for a few days in sunny Florida. While many people bring home memories we like to also bring home recipes to recall those fun and relaxing times.  During our stay we enjoyed a few Planter's Punches at the Lake House Bar & Grill in Bonita Springs. The bartender was happy to share his recipe which we adapted at home.
Start with a good gold or amber rum such as Mount Gay Eclipse. The rum gets its color and flavor from having been aged in a wooden cask. Light, dark or spiced rums should be saved for other drinks. Add a mixture of fruit juices including pineapple, orange and lime plus some homemade grenadine (which is made from pomegranate juice).
Garnishes are key to this drink – top each drink off with a lime slice, maraschino cherry (preferably dye-free) and a fresh shaving of nutmeg. While you can buy a nutmeg grater a versatile microplane grater does the same job. A toothpick works for skewering the lime and cherry but a sword is much more fun. I took a page from my Great Aunt Jean who had the greatest swizzle stick collection and brought home these swords from the bar. Don't tell TSA.
Sipping this drink makes you think warm and tropical no matter where you are or how cold it might be outside.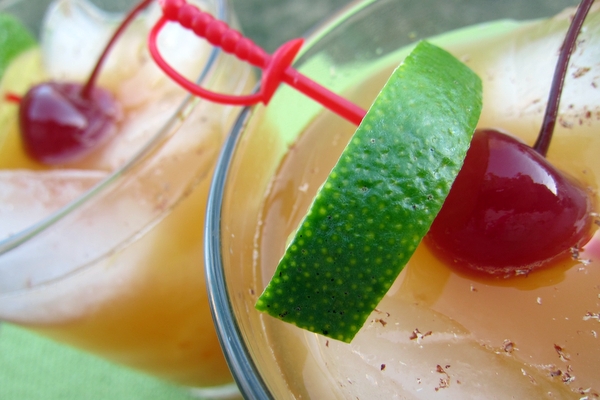 Ingredients
4 ounces Mount Gay Eclipse Rum (or another gold/amber rum)
4 ounces fresh pineapple juice
4 ounces fresh orange juice
1 ounce fresh lime juice (~ 1 lime)
4 teaspoons grenadine (preferably homemade)
Shavings of fresh nutmeg
2 lime slices
2 maraschino cherries (preferably dye-free)
Instructions
Put first 5 ingredients in a shaker and shake for 10 seconds.
Divide between two 14 ounce glasses filled with ice.
Garnish with a fresh shaving of nutmeg plus a lime and cherry on a plastic sword or toothpick.
Notes
* I started making my own grenadine after reading the list of ingredients on a bottle of Rose's grenadine.
* For dye-free cherries try
Tillen Farms' Merry Maraschino Cherries
. I find them in the natural food section at Wegmans.