It's that time of year when red and green are the colors of choice (normally it's pink and green in my book but I can adjust). I was inspired by a story that my friend Sydney L just told me about the first time she met her husband's family. It was over the Christmas holidays and she was offered their family's special holiday drink – special because it was red and green. She graciously accepted and has carried on David L's family tradition to this day (it's called a Scarlet O'Hara and is made with Southern Comfort, cranberry juice and lime).
I decided to follow this theme but switch it up a bit. I love pomegranates and think they are particularly festive at this time of year. Here they are used for the main ingredient in a Pomegranate Margarita. Don't worry about it being too much work as I used already squeezed pomegranate juice and added some seeds for garnish. Throw in some lime juice and and lime wedge and I've followed Sydney's family's lead. Don't forgot to use premium Tequila as it will make all the difference.
Holiday Tip:  Try making a pitcher of these to entertain your holiday guests.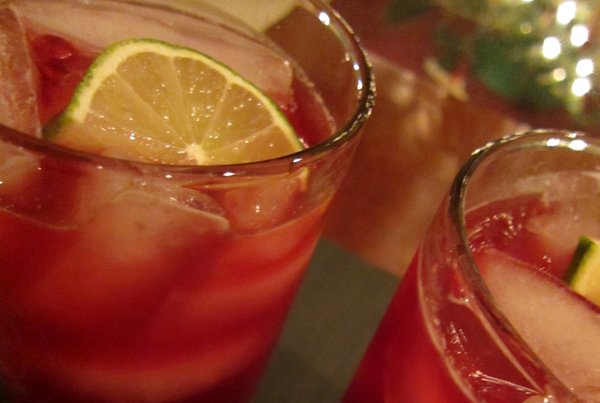 | | | |
| --- | --- | --- |
| Pomegranate Margarita | | Print |
Ingredients
2 ounces fresh lime juice (~ 2 limes)
6 ounces pomegranate juice
4 ounces Silver Patron Tequila (or other premium Tequila)
1 ounce Cointreau or other orange liqueur
Pomegranate seeds (for garnish)
Lime wedges (for garnish)
Instructions
Freshly squeeze the lime juice.
In a cocktail shaker, stir lime juice and pomegranate juice.
Fill shaker half way with ice.
Add tequila and Cointreau and shake.
Strain into highball glasses filled three quarters of the way with ice.
Serve each with 10 or so pomegranate seeds and a slice of lime.
Notes
I recommend POM 100% pomegranate juice.