This might just be my new favorite sauce. It's rich (but not loaded with dairy) and has a depth of flavor that will make your taste buds dance.
We recently had a couple for dinner that we didn't know well. I always ask in advance if our guests have any food allergies or just don't like something but I don't go much further than that. When I'm planning the meal I think about foods that aren't too odd and that can be easily adapted to suit someone's tastes. That's where this sauce came in. We served it with grilled pork tenderloins seasoned with olive oil, salt and pepper and the sauce separately. It allows for less adventurous eaters to know that the meat is "safe" and to put some sauce on the side. The more adventurous (read "trusting") eaters are free to cover their meat.
The figs act as thickener – there's no cream or flour in it (so it's gluten-free/wheat-free) – it's almost the consistency of apple butter. The few tablespoons of butter smooth out all of the flavors. There's no need to chop the herbs as the sauce gets blended at the last stage.  In addition to serving it with pork it would also pair well with lamb or chicken. It makes about 1-3/4 cups of sauce or enough to accompany 3 to 4 pounds of meat.
I also like this sauce as you can make it ahead of time and warm it up before serving. Or, make a double batch and freeze some of it for a future meal.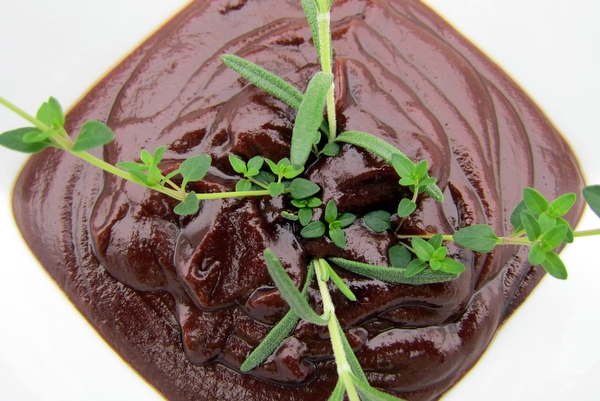 | | | |
| --- | --- | --- |
| Port Wine-Fig Sauce | | Print |
Ingredients
2-1/2 cups port wine (ruby or tawny)
1-1/4 cups reduced-sodium chicken broth
16 dried black Mission figs, coarsely chopped
4 sprigs fresh rosemary, leaves removed
4 sprigs fresh thyme, leaves removed
1 tablespoon honey
2 tablespoons unsalted butter, cut into pieces
Sea salt and freshly ground black pepper
Serve with: pork, lamb or chicken
Instructions
In a heavy medium saucepan, combine port wine, chicken broth, figs, rosemary, thyme and honey.
Bring to a boil over medium-high heat. Lower to medium and cook until reduced by half, about 30 minutes.
Whisk in butter until melted. Season with sea salt and pepper.
Transfer the port mixture to a blender or Vitamix and purée until smooth. It will be thick – similar in consistency and color to apple butter.
Serve warm with grilled or roasted meat.
Notes
* I recommend using port that you'd drink but it doesn't have to be your best.
* There's no need to chop the herbs as you're going to blend the sauce.
* Lower heat if needed while cooking. You want to cook it about 30 minutes once boiled to ensure that figs soften but you also don't want to cook away too much of the liquid.
* Makes enough sauce for 3 to 4 pounds of meat.
* The sauce can be made 1 day ahead. Cover and refrigerate. Rewarm over medium heat or in microwave before serving.
* Sauce freezes well.
Source:  Variation on a recipe by Giada De Laurentiis from The Food Network