Ed and I just returned from a wonderful trip to the Phoenix-Scottsdale area. We enjoyed golfing, spending time with old friends and many, many fabulous meals. I wanted to share some of the good food we had and the restaurants where we ate – they are all places we would happily return to.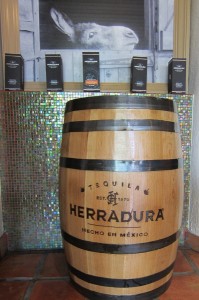 The Spotted Donkey Cantina
The Spotted Donkey Cantina has a special arrangement with Herradura to produce small quantities of barrel aged tequila. They use it to make one of the best margaritas we've ever had. Add to that the most unique and tasty nachos I've ever eaten – made with three types of cheese (including Manchego), drunken beans and house fried tortillas.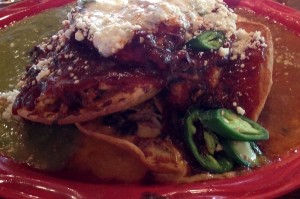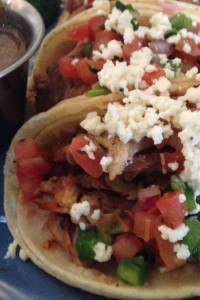 The Barrio Cafe
The Barrio Cafe is one of the top Mexican restaurants in Phoenix.  Chef/Owner Silvana Salcido Esparza comes from an illustrious cooking heritage and has won many awards, including being nominated for the coveted James Beard award twice. She's not afraid to incorporate other cuisines into her Mexican dishes which makes them even more interesting.
We started with amazing guacamole that included dried cranberries (in season she uses pomegranate seeds) which gave it a nice tart taste. I had Cochinita Pibil – tacos with the most flavorful pork that is wrapped in a banana leaf with spices and slow roasted overnight. I found a recipe for this online and plan to make it this fall. Ed had a poblano torta – a spice rubbed chicken sandwich with poblano peppers, onions, goat cheese and pine nuts. Oh my was it good.
Tonto Bar & Grill at Rancho Mañana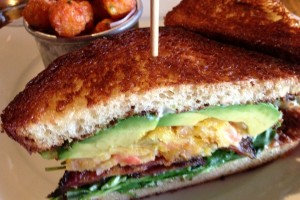 Tonto Bar & Grill provided another tasty lunch after one of the most beautiful rounds of golf we have ever played. Rancho Mañana Golf Club is set in the mountains providing some outstanding views of the Valley of the Sun.
Here Ed tried his first Prickly Pear Margarita (which we now make at home). I love Arizona for many reasons – one of them being they put avocado on everything. I had a scrumptious BLT with avocado, thick bacon and fried green tomatoes all on house-made herb brioche. As a side dish – homemade sweet potato tater tots. I never thought I would say this, but they were the best tater tots ever.
NoRTH Italian Farmhouse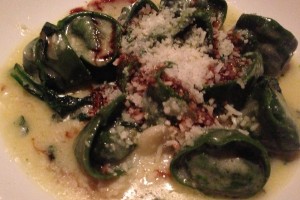 During our last visit to Arizona we had a great meal at The Greene House run by Fox Restaurant Concepts and I was looking to try one of their other restaurants. I picked NoRTH Italian Farmhouse because they had grilled artichokes on the menu along with many other tasty homemade dishes.
The grilled artichokes drizzled with truffle oil and grana padano cheese and served with a side of lemon aioli did not disappoint. Ed was very pleased with his braised short ribs and homemade gnocchi. On the recommendation of our perfectly attentive server, I had homemade spinach mezzaluna filled with four cheeses and finished with herb butter – the pasta melted in my mouth. We look forward to trying another Fox establishment on our next journey west.
In-N-Out Burger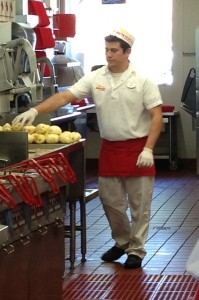 A trip to one of the western states would not be complete without lunch at In-N-Out Burger – Ed's favorite fast food burger. They make everything fresh, including their French fries (see potatoes in the photo). The menu is very, very limited (a chicken sandwich isn't even an option), but all good. We heard that they may be coming to the east coast soon – hope that rumor is true.
In addition to all of these meals, we also enjoyed some wonderful home cooked dinners (and catching up) with long time friends, Jennifer and Armando R (and children) and Hope and Joel D (and child). Plus, Hope, Joel and Payton shared two of their favorite places with us – Cantina Laredo (yummy pork carinatas in a chipotle-red wine sauce) and Pizzafarro's (tasty pizza).
We can't wait to go back to Arizona for more great food.