We spent last Christmas with my brother and his family which included our brand new nephew (!). We were charged with bringing a soup for Christmas lunch. I asked Ed to find something new to make so he embarked on a tour of the mounds of cookbooks we have (not venturing into the cookbook annex in our office) and found this recipe from Gordon Hamersley's Bistro Cooking at Home. This wasn't surprising to me since it's one of his favorite cookbooks.
This is a great recipe as you can make a fairly healthy hearty base, but can "dress it up" (translate make it a bit "bad") by adding creme fraiche and/or bacon (Riegl Palate's additions). It's good on it's own, but even better with these accoutrements. Wine (or vermouth) really accents all the flavors – don't skip this ingredient.
This is the third and last installment of my "soup series" – I hope that I have helped to keep some people warm during this particularly cold winter season.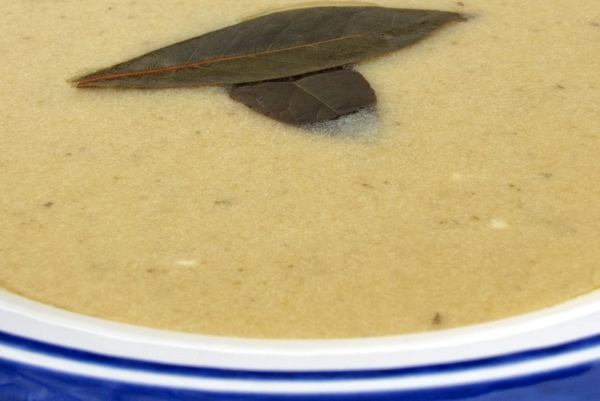 | | | |
| --- | --- | --- |
| Potato and Leek Soup | | Print |
Ingredients
3-4 medium leeks, green tops and roots cut off
1 tablespoon unsalted butter
2 tablespoons extra virgin olive oil
1 medium russet (baking) potato, peeled and cut into a small dice
1 cup dry white wine or dry vermouth
3 cups chicken broth
1 bay leaf
1 teaspoon dried tarragon
½ teaspoon fennel seeds, crushed
Pinch of cayenne pepper
1½ teaspoons sea salt
¼ teaspoon freshly ground black pepper
1 cup light cream
6-8 ounces creme fraiche (optional)
4 slices bacon, cooked and crumbled (optional)
Instructions
Crush fennel seeds using a spice grinder or mortar and pestle until smooth.
Cut leeks in half lengthwise and then cross-wise into ½ inch pieces. You want about 4 cups of chopped leeks (a bit more or less is fine). Soak leeks in a large bowl of cold water to get rid of dirt and grit. Lift them out of the bowl using your hands and into a colander leaving the dirt behind at the bottom of the bowl. Rinse leeks in the colander under cold water.
Heat butter and olive oil in a large pot (4 to 5 quarts) over medium heat. Add leeks and potato, and cook until leeks become vivid green and begin to wilt, about 5 minutes. Add wine or vermouth, chicken broth, bay leaf, tarragon, fennel seeds, cayenne pepper, salt, and black pepper. Bring soup to a boil, lower to a simmer, and cook until the potatoes are tender, about a 30-40 minutes.
Remove the bay leaf. (Don't forget!)
Using a Vitamix, immersion hand blender, regular blender or food processor, purée the soup in batches until smooth. Return the soup to the pot, add cream, and bring to a simmer. Season with salt and pepper.
Garnish each serving with a dollop of creme fraiche and sprinkling of crumbled bacon, if desired.
Notes
* Make 2-3 days ahead of serving or freezes well.
Source:  Adapted from Gordon Hamersley's Bistro Cooking at Home (2003)