I recently had a nice dinner at San Nicola in Paoli, PA with Ed and our friend from college, Kathy B. Kathy and I both had a salad of arugula with prosciutto and provolone. This simple salad had so many good flavors I decided to turn it into an appetizer. Take a piece of cheese, put a few leaves of arugula on top, drizzle with balsamic vinegar glaze and wrap in a slice of prosciutto. Presto – perfect little stand alone "packages."

These are great appetizers for any summer gathering. With only four ingredients they are easy to make just be sure to allow for a bit of time to do it right.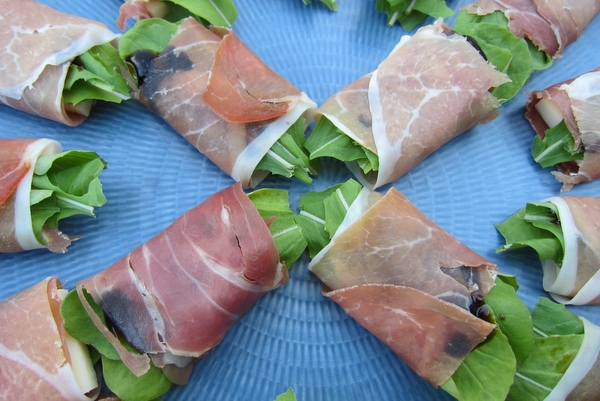 | | | |
| --- | --- | --- |
| Prosciutto-Arugula-Provolone Packages | | Print |
Serves:
Makes 32 packages
Ingredients
8 ounces of Prosciutto (16 slices)
~ ½ pound sharp provolone
96 arugula leaves (3 per package)
Balsamic vinegar glaze (see Notes)
Instructions
Cut each slice of prosciutto in half lengthwise. It may be easier to roll each slice up first and then cut it in half. If you do it this way you will then need to unroll each piece.
Cut 32 pieces of cheese – into about 1" squares.
Place a piece of cheese about an inch from the top of a piece of prosciutto.
Top cheese with three arugula leaves.
Drizzle with balsamic glaze (one or two squirts).
Wrap prosciutto around the cheese and arugula to form a "package." The prosciutto sticks to itself sealing it fairly well.
Place on a serving platter. Repeat to make 32 total pieces. Refrigerate before serving. Remove from refrigerator 15-30 minutes prior to serving.
It takes about a half hour to prepare 32 pieces. Can be made 2 hours ahead.
Notes
* Recipe easily doubles or triples.
* In addition to getting prosciutto at the deli counter, you can often find it in 4-ounce packages which contain 8 slices.
* Balsamic vinegar glaze can be found in the vinegar section at many supermarkets. If unavailable, boil ¾ cup balsamic vinegar in a small saucepan until reduced to 3 tablespoons, 6 to 7 minutes.