I consider myself quite lucky to have been on the short list that received Winfield's Wonderful Wumpkins for the second year in a row. Winfield is the elementary school aged son of one of my colleagues and he is already showing his entrepreneurial prowess. Some kids have a neighborhood lemonade stand? Not Winfield – he and his younger brother, Radnor, opted for a pumpkin stand this year. The "Wumpkins" (not yet trademarked but I'm sure Winfield is working on it) come in all different shapes and sizes plus traditional orange and "Casper" white colors.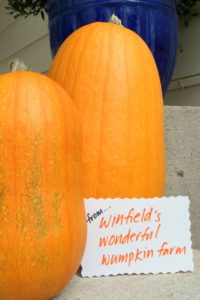 Winfield's pumpkins provided the inspiration for this dessert but not the actual puréed pumpkin (that came from a can). I made this ice cream last year for my Gourmet Dinner Club (GDC) at the request of our hostess, Deb B. When you receive a call from a dear friend asking you to make pumpkin ice cream, you make pumpkin ice cream (clearly she knew who to call). Thanks to Jeni Britton Bauer's Jeni's Splendid Ice Creams at Home cookbook for helping me find the perfect recipe.
The Chinese 5-spice powder that I use has anise (fennel), cinnamon, star anise, cloves and ginger in it – so it's not that far off from spices that you'd use in a pumpkin pie (cinnamon, nutmeg, ginger, cloves and/or allspice). The big difference is the star anise which gives a flavor kick that pairs well with the pumpkin. Note that Chinese 5-spice powders vary and often contain some sort of peppercorn in place of the ginger. If your powder doesn't have ginger feel free to add a dash of ground ginger (think gingersnap crust on a pumpkin pie).
Winfield's Wonderful Wumpkins spurred me to make this again this fall when my dad and stepmother came for dinner. It was a big hit – so much so that Ed went back for seconds. And, that usually doesn't happen unless there's chocolate involved.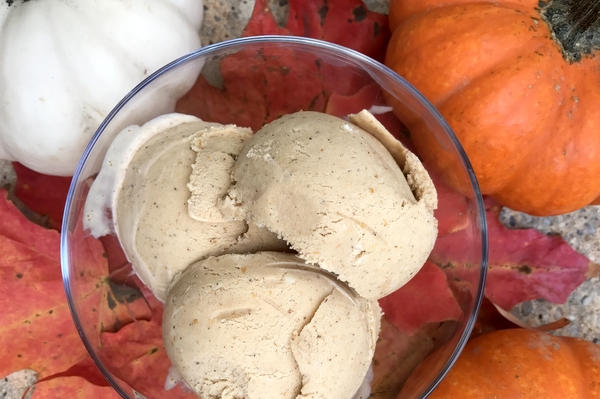 | | | |
| --- | --- | --- |
| Pumpkin and 5-Spice Powder Ice Cream | | Print |
Serves:
Makes a generous 1 quart
Ingredients
2 cups whole milk
1 tablespoon plus 1 teaspoon cornstarch
1-1/2 ounces (3 tablespoons) cream cheese (full fat) or crème fraiche, softened
¼ teaspoon fine sea salt
¾ cup puréed pumpkin (100% pumpkin)
¼ cup honey
1-1/4 cups heavy cream
⅔ cup packed light brown sugar
2 tablespoons light corn syrup
1 tablespoon Chinese 5-spice powder
Instructions
Prep
For the ice cream base: Mix with a fork about 2 tablespoons of milk with cornstarch in a small bowl to make smooth slurry. Whisk cream cheese or crème fraiche and salt in a large bowl until smooth. Add pumpkin purée and honey and whisk until smooth. Don't worry if it's a bit lumpy at this point – it will smooth out when the hot mixture is added.
Fill a large bowl with ice and water.
Cook
Combine remaining milk, cream, sugar, corn syrup and Chinese 5-spice powder in a 4 or 5-quart saucepan, bring to a rolling boil over medium-high heat and boil for 4 minutes. (Watch the pan so mixture doesn't boil over.)
Remove from heat and gradually whisk in cornstarch slurry.
Bring mixture back to a boil over medium-high heat and cook, stirring with a heatproof spatula, until slightly thickened, about 1 minute.
Remove from heat.
Gradually whisk hot milk mixture into pumpkin-cream cheese mixture until smooth (it may be easier to transfer the hot milk mixture to a 4-cup measuring cup if your saucepan is heavy).
Chill
Pour mixture into a 1-gallon Ziploc freezer bag and submerge the sealed bag in the ice bath.
Let stand, adding more ice as necessary, until cold, about 30 minutes.
Alternately, if you are not finishing the ice cream on the same day you can chill the mixture in refrigerator for up to 2 days.
Freeze
Pour the ice cream mixture into the frozen canister of your ice cream maker and spin until thick and creamy.
The ice cream is finished at the exact moment when the machine isn't freezing the ice cream anymore; ice cream will begin to pull away from the side (about 20-25 minutes).
Pack ice cream into a freezer-safe storage container, press a sheet of parchment paper directly against the surface, and seal with an airtight lid.
Freeze in the coldest part of your freezer until firm, at least 4 hours and up to a few weeks.
Notes
Don't want to use canned pumpkin purée? You can make it from scratch. Preheat oven to 400°F. Cut 2-3 pound pie pumpkin in half and remove seeds and membranes. Place cut side down on a baking sheet with high sides covered in aluminum foil. Roast for 30-40 minutes, until soft when pierced with a fork. Let cool slightly. Scoop flesh into a food processor and purée until completely smooth. Measure out ¾ cup for the ice cream; reserve the rest of the purée for another use.
Source:  Variation of a recipe from Jeni Britton Bauer's Jeni's Splendid Ice Creams at Home (2011)