I knew that I wanted to make a cupcake dessert for a family pumpkin carving party we were going to last weekend so I went on a search for festive cupcake wrappers.  While looking for the traditional orange and black colors I came across ones that were far brighter and closer to the colors I love. When I looked closer I realized they were for the Day of the Dead. I was happy to see that Target was embracing the Mexican alternative to Halloween especially in Malvern, PA.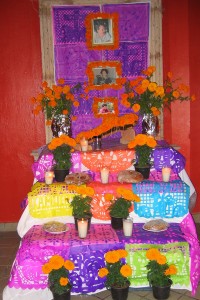 My mother lived in Mexico for over a decade – I was fortunate that a visit to her in 2008 coincided with this celebration. She lived outside of Guadalajara – the second largest city in Mexico. All over the city and surrounding towns everyone was celebrating. The Day of the Dead is actually three days – All Saints' Eve (known in America as Halloween), All Saints' Day and All Souls' Day.
The holiday focuses on bringing family and friends together to remember and pray for people who have died. While this sounds sad it's actually quite festive. All over we saw altars to loved ones decorated with bright colors including one in every restaurant we went to. It's a time where family and friends clean up and decorate graves and bring favorite food and drinks of the departed to the graveyards. My favorite was the calaveras (or human skulls) made out of sugar and colorful decorations that kids enjoy at this time of year. The most often depicted full size calavera is La Catrina Calavera who was made popular by Diego Rivera in his Dream of a Sunday Afternoon in the Alameda Central mural. There's a calavara on the bottom of the festive cupcake wrappers.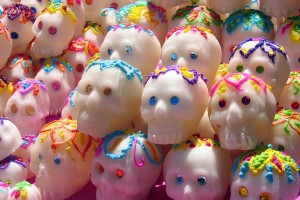 My cupcakes incorporated a bit of the Day of the Dead along with the more traditional colors and candies of Halloween. These cupcakes start off with a base of ginger snaps (you could use graham crackers) then a layer of cheesecake followed by layer of pumpkin filling and topped off with a second layer of cheesecake. The pumpkin filling is hidden – hence the "surprise." If you're adding some candy treats wait until just before serving as they will "run" a bit when refrigerated.  
While these are perfect to celebrate Halloween or the Day of the Dead they would also make a great addition to a Thanksgiving dessert table.
Gluten-Free/Wheat-Free Options:  I made these using gluten-free ginger snaps and gluten-free flour. Gluten-free graham crackers would be great, too.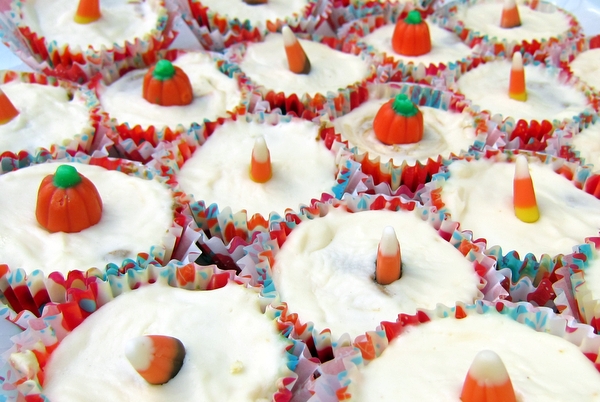 | | | |
| --- | --- | --- |
| Pumpkin Surprise Mini-Cheesecakes | | Print |
Ingredients
10 ounces ginger snaps or graham crackers, crushed
1 teaspoon cinnamon
3 tablespoons white sugar
5 tablespoons unsalted butter, melted
For the cheesecake filling:
32 ounces cream cheese, softened
1-1/2 cups powdered sugar
4 teaspoons vanilla extract
4 egg whites
¾ cup pure pumpkin
1 tablespoon cinnamon
¼ teaspoon ground allspice
4 teaspoons all-purpose flour
Optional: candy corn and candy pumpkins for garnish
Instructions
Preheat the oven to 300°F.
Line two standard muffin pans with cupcake liners (if you are using paper liners double them) so that you can make 24 mini-cheesecakes.
Place butter in a microwave-safe bowl and melt on medium heat for about 2 minutes.
Grind the ginger snaps or graham crackers in a Vitamix or food processor until fine.
Add cookie crumbs, cinnamon and white sugar to melted butter. Mix with a fork until the crumbs are evenly moistened.
Place about 1 tablespoon of cookie mixture in the bottom of each cupcake liner. Press down the crumbs. If you have extra just add a bit more to each cupcake liner.
Using a stand mixer, mix softened cream cheese on medium until it's smooth. Add powdered sugar and vanilla extract and mix on medium-low until just combined. Add egg whites one at the time on low until completely incorporated.
In a medium bowl stir together the pumpkin, cinnamon, allspice and flour with a rubber spatula. Add 1-1/3 cup of the cheesecake mixture to the pumpkin mixture and stir until incorporated.
To assemble: Add 1 tablespoon of cheesecake batter, top with 1 tablespoon of pumpkin purée and finish off with 1 tablespoon of cheesecake batter (3 layers plus crust) to each cupcake liner. Liners should be filled almost to the top.
Bake for 30 to 35 minutes (rotating the pan after the first 15 minutes)
Cool them completely and store in refrigerator.
Cupcakes can be made a few hours before serving. Add candy garnish just before serving.
Source:  Adapted from Oh My God Chocolate Desserts