One of the many reasons why I love writing a food blog is my ability to share good recipes with family, friends and beyond. When I meet a chef who is willing to do the same that makes me even happier.
I've never pickled anything before and have been looking for a good quick pickle recipe to try. When I recently enjoyed Chef Tyler Turner's pickled veggies I thought this is the recipe that I need. Thankfully Chef Turner was happy to share. I took his recipe that fed the masses and adapted it for the home cook.
While vegetables fresh from the garden would be ideal for this recipe, any vegetables that are in good shape will work just fine. I used an assortment of carrots, cucumbers, peppers (red and jalapeño), cauliflower and green beans. Add to that two types of vinegar, sugar, salt and a variety of spices. These are more "bread and butter" style pickles as they contain sugar whereas dill pickles do not.
The best salt to use is canning and pickling salt as it's very fine (so it dissolves) and contains no additives. Kosher salt will work, too, but make sure it doesn't contain any anti-caking agents as that will turn the pickling liquid cloudy. Learn more about What Is Pickling Salt? Do You Really Need It? from The Kitchn.
I was amazed how quickly the cucumbers both looked and tasted like pickles in just a few hours. While you can eat these veggies the same day they will only get better if you let them sit for a few days. They'll keep for up to two months refrigerated.
There's still time to make these for the Super Bowl and serve them alongside your favorite deli or sandwich platter.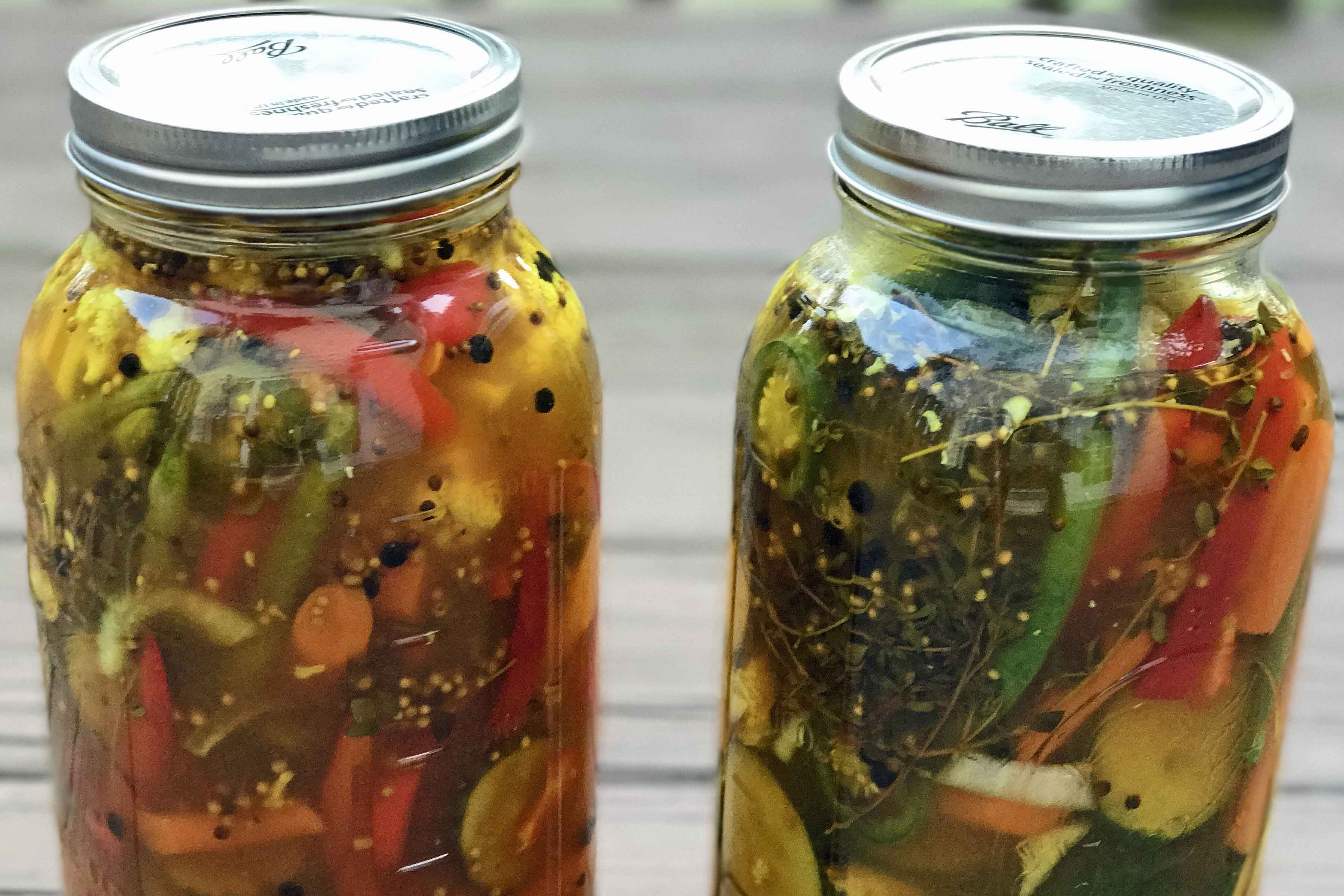 | | | |
| --- | --- | --- |
| Quick Pickled Vegetables | | Print |
Ingredients
1-1/2 cups cider vinegar
1-1/2 cups white vinegar
1 cup water
1 cup white sugar
¼ cup salt (canning & pickling preferred)
1-1/4 teaspoon turmeric
½ teaspoon celery seed
1 tablespoon coriander seed
1-1/2 tablespoons mustard seed
2 tablespoons black peppercorns
5 sprigs of fresh thyme
3 carrots (about ¼ pound), peeled and cut on an angle into 1-inch pieces
½ large seedless cucumber, cut into ¼-inch slices
¼ head of cauliflower
10 green beans, trimmed
½ red pepper, cut in long thin slices
1 jalapeño pepper, cut into round slices
~ 10 thinly sliced onion slivers
Any other vegetables you might like
Instructions
Place pickling brine ingredients in a 3-quart (or larger) pan and bring to a boil on high. Stir to dissolve sugar. Turn down to medium heat and simmer for 2 minutes.
Place cut vegetables in a large mason jar (64 ounces is perfect). You don't want to crowd them too much but they should come up to the top of the jar.
Pour pickling brine over vegetables. If it doesn't reach the top of the jar add a bit more hot water. You want the vegetables to be fully submerged.
Let cool to room temperature. Cover with lid and store in refrigerator for up to 2 months. Shake up jar before eating.
Start testing pickled vegetables after a few hours and then a few days.
Notes
* Use your imagination when it comes to selecting vegetables to pickle.
* Best salt to use is canning and pickling salt but Kosher salt (without anti-caking agents) works, too.
* Recipe can be doubled – which is what I did and why you see two mason jars in the photo.
* If you don't have a large mason jar, put them in a bowl or pitcher. Make sure vegetables are fully submerged – you may need a plate to weigh them down.