I've always made this recipe with couscous but now that I'm wheat-free I decided to try substituting quinoa. What I love about this dish is how well the flavors (cinnamon, apricots, pistachios and basil) meld together.
Ed and I were making a grilled Moroccan spiced lamb (see below) recently and I thought this salad would be a great accompaniment.  We were pleased with the "swap" as it was just as tasty and has the added bonus of adding some extra protein to the meal.
This is a great salad to bring to a picnic or potluck dinner – I'm pretty certain you'll receive a compliment or two. Plus, it's very easy to make.
Bonus Recipe:  Try Urban Accents' Casablanca Ras el Hanout on a grilled boneless leg of lamb. In addition to the spice mixture and lamb all you need is a lime, garlic and honey. The recipe is very tasty and it smells amazing coming off the grill. You can get both the Urban Accents spice mixture and a one pound boneless leg of lamb at Wegmans.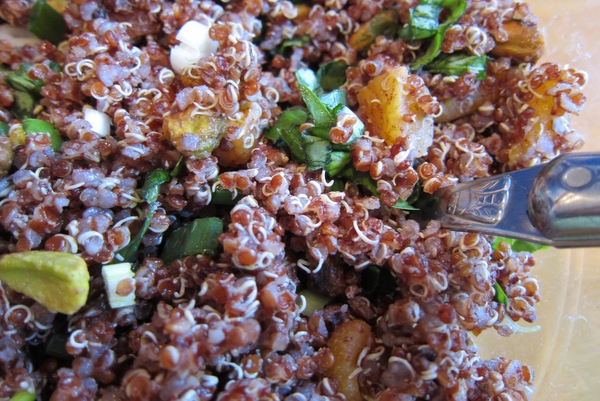 | | | |
| --- | --- | --- |
| Quinoa Salad with Dried Apricots and Pistachios | | Print |
Ingredients
2-1/4 cups water
1 cup (7 ounces) red quinoa
¾ cups (4 ounces) dried apricots, thinly sliced
2 teaspoons ground cinnamon
½ teaspoon ground allspice
2 tablespoons extra-virgin olive oil
½ cup (2.5 ounces) unsalted pistachios, toasted
4 chopped (about ½ cup) scallions, chopped
4 tablespoons chopped fresh basil
Instructions
Place quinoa in a fine sieve and rinse with cold water.
Place water and quinoa in a medium saucepan and bring a boil over high heat.
Reduce heat to low and cover. Simmer for 15 minutes.
Remove from heat. Add apricots, cinnamon and allspice and stir. Let stand covered for 10 minutes for the water to absorb and grains and apricots to become tender.
Fluff with a fork and stir in olive oil.
Let quinoa cool to room temperature.
Just before serving stir in pistachios, scallions and basil. Season with salt and pepper.
Notes
* I recommend using red quinoa as it holds up slightly better when cold (plus I like the color), but you can substitute white or multi-color.
* You can use the same amount of couscous in place of quinoa. Follow cooking directions on the package. Mix couscous with apricots, cinnamon and allspice before adding the boiling water.
* Quinoa mixture can be made a day in advance and refrigerated. Bring to room temperature before adding pistachios, scallions and basil.