I recently had an embarrassment of fruit riches on a visit to my local farmers market. I was on a mission to stock up on the last of the summer strawberries when I saw the most gorgeous raspberries. I knew they were too good to pass up especially when I was told that there was no guarantee when the next batch would be available.
At home I had an over abundance of herbs and set out to find a good match to the beautiful fresh raspberries. After doing a bit of research I settled on a raspberry-tarragon combination. Tarragon has a mild anise flavor and is typically found in savory dishes. In this recipe it cuts the sweetness ever so slightly and provides a nice balance plus it pairs well with the juniper flavors found in gin.
This cocktail gave me a chance to use the latest addition to our liquor cabinet – a bottle of Juniperus Gin from Bluebird Distilling. Bluebird, founded in 2015, is a great addition to my hometown of Phoenixville, Pennsylvania. In addition to gin, they also distill bourbon, whiskey (two types), vodka and rum. They not only produce great small-batch spirits but also serve up some amazingly creative cocktails at their distillery.
If you're not a fan of gin, no worries. Vodka, rum or bourbon would be equally good.
Gluten-Free/Wheat-Free Option:  Bluebird's Juniperus Gin is distilled from rye making it a great choice for those who are wheat-free. Note that many believe that the distillation process removes the gluten. As a result some with gluten sensitivities would be okay with this gin while others are not. If in doubt use a gin that's gluten-free (such as Hendrick's) to be safe. (Note:  gluten contains wheat, barley and rye)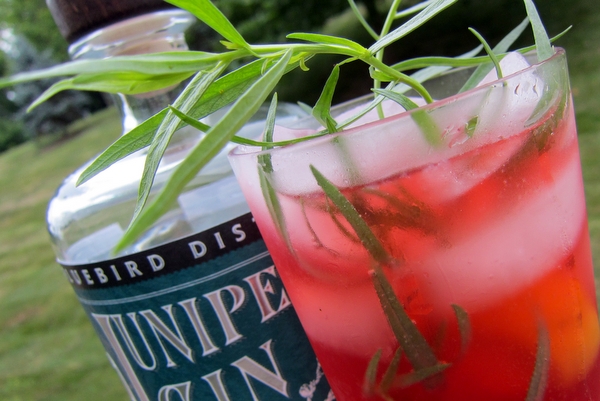 | | | |
| --- | --- | --- |
| Raspberry-Tarragon Gin Cocktail | | Print |
Ingredients
1 cup fresh raspberries
1 cup fresh tarragon leaves
1 cup water
1 cup Turbinado (raw) sugar
4 ounces gin
2 ounces Raspberry-Tarragon Syrup
Juice from a lemon slice
Club soda
Garnish with tarragon sprigs and fresh raspberries
Instructions
For Syrup:
Roughly chop tarragon leaves to release flavors.
In a small saucepan, combine raspberries, tarragon, water and sugar over medium-high heat. Stir until sugar dissolves while pressing raspberries against the side of the pan.
Bring to a boil and let boil for a minute.
Remove from heat and let steep for an hour or two so flavors can develop.
Strain syrup into a storage container.
Store for up to 2 weeks in the refrigerator or freeze.
For Cocktail:
Fill highball glass with ice.
Add gin and raspberry-tarragon syrup.
Squeeze in lemon juice and add to glass.
Top with seltzer and stir.
Garnish with a sprig of tarragon and a few fresh raspberries.
Notes
* The syrup recipe makes about 1-1/2 cups (or 12 ounces) – enough for 12 cocktails.
* This syrup freezes well so you can make it ahead of time.
* Don't like gin? Vodka, rum or bourbon would be great substitutions.
* You can use non-local or frozen raspberries in place of the local raspberries.
* You can use white sugar in place of Turbinado (raw) sugar if prefer.
* Great as a mixer for cocktails but also mixes well with club soda.