Back when Ed and I first started dating we used to enjoy dinners at the Iberian, a wonderful, now long gone Spanish restaurant on Long Island. Early on we perfected recipes for both red wine and white wine sangria – inspired by those fabulous meals.
Back then we used other ingredients such as fruit, sugar and brandy to cover up not-so-very good wine. We now realize that while you don't want to use your very best wine to make sangria you do want to start with a pretty good bottle of wine – one that you'd drink without adding extra ingredients. We like a good Spanish Rioja.
A few months ago we enjoyed excellent paella made by our friend Jonathan R. I figured if he was going to make homemade paella then I had to dust off the sangria recipe. I went back to the original but did additional research pouring over recipes and talking to my friend, Diana A, who may have been born in America but her first love is for all things Spanish. From Diana I learned that making the sangria ahead of time so the flavors could "marinate" was one of the keys to great sangria. She'd say make it the night before – I'm okay with five or six hours in advance.
I like to make one batch per large mason jar (64 ounces). You put all the ingredients into the jar except for the seltzer water (that's added just before serving). It's easy to shake it up to mix the flavors every hour or so, plus it's simple to transport. And if you're making many batches it's very easy to double, triple, etc. the recipe. One bottle of wine plus all the other ingredients per jar. I prefer not to serve from the jars so I'll typically transfer a jar (fruit and all) to a clear glass or plastic (if serving outside) pitcher.
Jonathan's grown daughter saw one of the jars in the refrigerator and asked if it was fruit punch. I laughed as I had never thought of sangria that way because I'm not a fruit punch fan but I'd happily become one if all fruit punch tasted like this sangria. While this is perfect sipped on a warm summer evening (with or without Spanish food as an accompaniment) it tastes great all year round.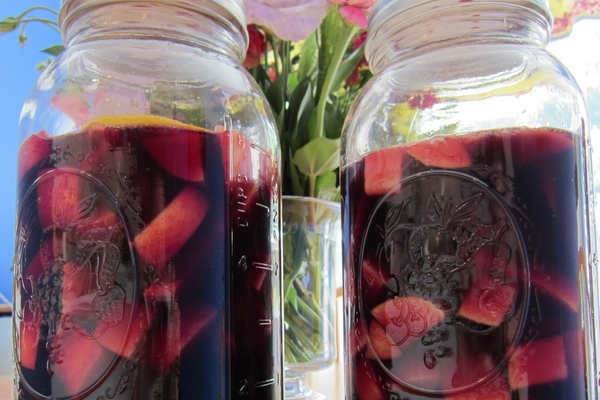 Ingredients
1 medium apple
1 orange
1 lemon
1 bottle of good quality Spanish red wine (such as Rioja)
¼ cup cognac or brandy
¼ Cointreau or Gran Marnier
3 ounces simple syrup (or ¼ cup sugar)
1 ounce orange juice (~ ½ orange)
1 ounce lime juice (~ 1 lime)
Seltzer
Instructions
Cut up apple into small quarters. Slice orange and lemon into wheels.
Put fruit in a pitcher or mason jar. Add wine, cognac or brandy, Cointreau or Gran Marnier, simple syrup, orange juice and lime juice. Stir well.
Store in refrigerator for at least 5 hours or as long as overnight.
Fill a glass with ice and about ¾ full with sangria. Top with seltzer and stir.
Notes
* Recipe can easily be doubled, tripled, etc.