My mother lived in Mexico for over a decade. One year for Christmas in order to bring a bit of her adopted culture to us she gave us a copy of Diana Kennedy's The Essential Cuisines of Mexico. Little did I know at that time that Kennedy was one of the most respected authors of Mexican cookbooks.
This is a variation of one of the many bean recipes Kennedy has in her book. Most people don't pay much attention to refried beans when the come as part of your Mexican food entrée because they are generally not very good. When I have served these to guests they often tell me up front that they don't like refried beans. I encourage them to try mine after I assure them that they have flavor and that no lard has come near these beans (another reason for their universal dislike). I have yet to not win someone over! They may not look very pretty but they taste really good.
I like to serve these beans as part of a simple weeknight meal for Ed and me with corn tortillas, sliced avocado, shredded cheese, chopped cilantro and a squeeze of lime juice. They also make a great a accompaniment to grilled chicken fajitas or pork carnitas or as a base to nachos. Or turn them into a Refried Black Bean and Cheese Dip (see bonus recipe below). As you can see there are many options for these tasty beans. And just in time for Cinco de Mayo.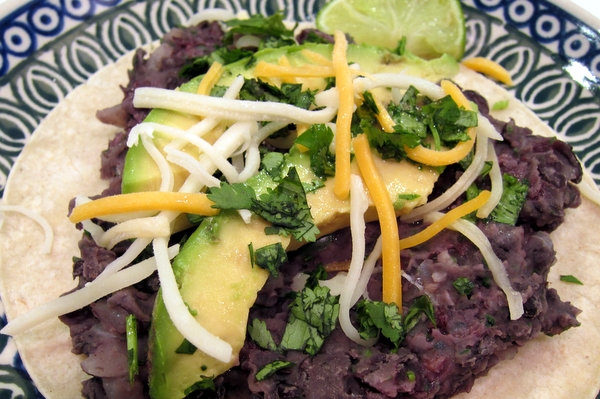 | | | |
| --- | --- | --- |
| Refried Black Beans | | Print |
Ingredients
2 15-ounce cans of black beans, drained and rinsed (see note)
⅓ cup chicken broth
3 tablespoons vegetable oil
½ cup onion, chopped
3 garlic cloves, chopped
1 jalapeño pepper, seeded and chopped
¼ cup cilantro, chopped
Instructions
Place drained beans in a bowl.
Using a fork mash them adding chicken broth as necessary – you are done when most of the beans are mashed.
Heat oil in a 10-inch frying pan over medium heat.
Sauté onion, garlic and jalapeño pepper until soft.
Add beans to mixture and cook for about 10 minutes, stirring frequently. The beans will reduce to thick, crusty paste.
Add chopped cilantro and cook for about another 2 minutes.
Serve hot.
Notes
* Instead of canned beans you can cook up a batch of
Dried Black Beans
and use 3-1/2 cups of cooked beans for this recipe.
* Use vegetable broth to make this vegetarian.
Bonus recipe…
| | | |
| --- | --- | --- |
| Refried Black Bean and Cheese Dip | | Print |
Ingredients
1 recipe of Refried Black Beans (above)
6-8 ounces of Mexican cheese blend or Monterey Jack cheese, shredded
2 tablespoons cilantro, chopped
For serving: tortilla chips
Instructions
Preheat oven to 350°F.
Coat a 8-inch round or square baking dish with cooking spray.
Place half of the refried beans in the dish. Top with half of the cheese. Repeat with remaining beans.
Sprinkle top with chopped cilantro.
Bake for 20 to 25 minutes or until hot and bubbly.
Serve with tortilla chips.
You can prepare it the night before and refrigerate it until you're ready to cook it – you'll need some additional cooking time.