The Kimberton Inn in Kimberton, PA, has had a salad on their menu for as long as I can recall called "Probably the Best Salad You'll Ever Have." When you see a description like that (it even includes a disclaimer) on a menu how can you not try it? Having enjoyed it many times, I will say that it's a very good salad, but not quite my favorite salad. 
I found may favorite salad a few years ago at an Italian theme night dinner and it has become my "go to" salad – arugula, sun dried tomatoes and goat cheese with a homemade balsamic vinaigrette. Whether it's a fancy occasion or the only course I'm making, I'll add homemade sourdough bread croutons which makes it even better.
It's easy to make and I almost always have the ingredients on hand. Plus, it doesn't rely on seasonal items which makes it easy to enjoy all year round.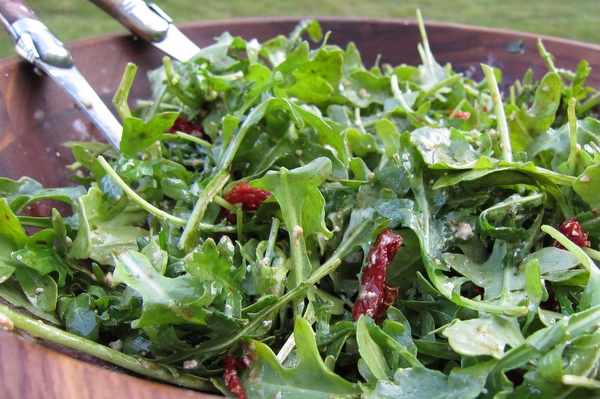 Ingredients
5 ounces arugula
3 ounces sun dried tomatoes, chopped
4 ounces goat cheese, crumbled
¼ cup balsamic vinaigrette (or to taste)
Instructions
Place arugula, sun dried tomatoes and goat cheese in a salad bowl.
Toss with dressing to taste. Do not overdress the salad.