Saturday is International Hummus Day. Yes, there's a day for everything. In doing some research I did determine that this is a relatively new annual celebration having been around only since 2012. How did I find out about it?
Ed gave me the most perfect calendar for Christmas – Mike Geno's Cheese Portraits.  Mike is a local Philadelphia food artist who specializes in painting cheese. In addition to highlighting a new cheese each month he also shares fun dates like International Hummus Day.
This provided me with the perfect opportunity to share one of my new favorite hummus recipes.  Ed and I recently attended a Franklin & Marshall College Philadelphia alumni event featuring Sarah Waybright '06 of Why Food Works. Sarah's a nutritionist who believes strongly in educating people about healthy food and showing them how to prepare it. She made this hummus that night and shared the recipe with all of us. I love beets and was happy to find a new way in which to prepare them. You'll likely not be surprised that I also can't get enough of the color!  Sarah shared that beets are high in good things like folate (vitamin B9) and fiber. If you're not sure if you like beets, this is a good recipe to try as the flavor is subtle but pairs well with the chickpeas and tahini.
I prefer to use roasted garlic in hummus – you get garlic flavor but it's a bit sweeter than raw garlic and doesn't stay with you quite as long. Since you're already roasting beets it's easy to roast a head of garlic at the same time. You'll have some cloves leftover that you can use in other savory dishes.
Be sure to drizzle some good quality olive oil on the hummus prior to serving. And, if you have have access to Watusee Foods' Chickpea Crumbs sprinkle some on top for a bit of crunch. They're breadcrumbs made from chickpeas so they're gluten-free/wheat-free and add some extra protein to your meal.
If you're looking for a more traditional hummus recipe check out Best Ever Hummus. It takes some time to make but it's worth it. One easy tip that I learned from this recipe is to process the ingredients for much longer than I ever had which results in much smoother hummus. I incorporated that tip into this recipe.
How will you be celebrating International Hummus Day?
Photo disclaimer:  I took this picture of Sarah's original dip.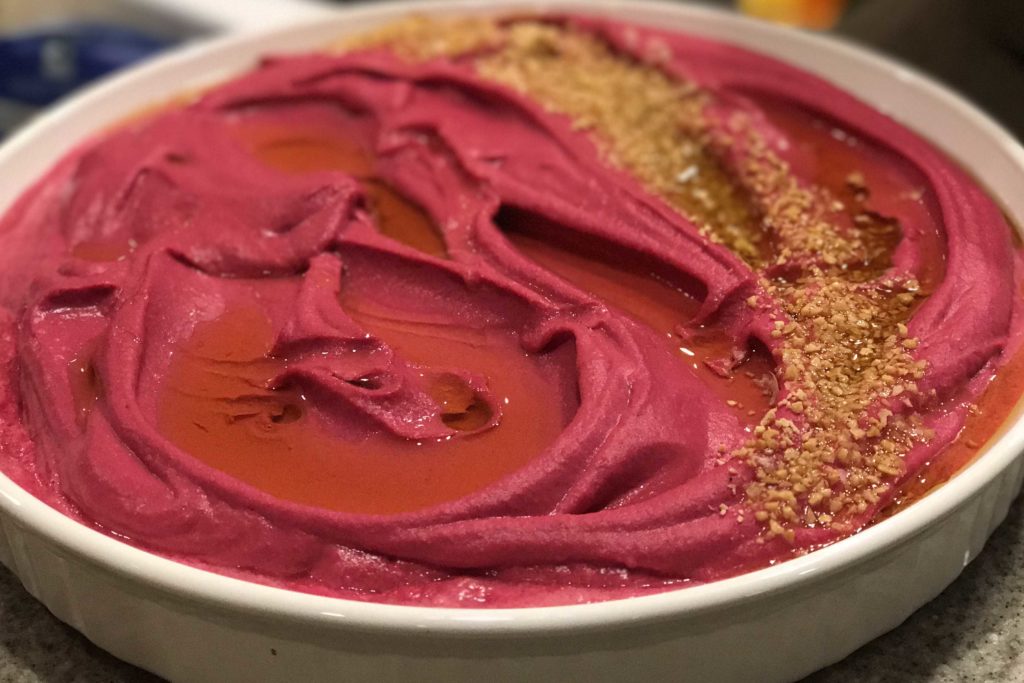 | | | |
| --- | --- | --- |
| Roasted Beet Hummus | | Print |
Ingredients
2 small beets
4 cloves roasted garlic
2 15 ounce chickpeas, drained and rinsed
2 tablespoons freshly squeezed lemon juice (~ 1 lemon)
3 tablespoons tahini
⅔ cup olive oil
¼ cup warm water
½ teaspoon sea salt
For garnish: good quality olive oil and chickpea crumbs (optional)
For serving: crackers, pita or tortilla chips and/or sliced vegetables
Instructions
Preheat oven to 375°F. Prepare both beets and garlic as you'll roast them together.
Beets: Clean beets and cut off tops/greens. Wrap tightly in aluminum foil and place on a baking sheet. Roast for 45 to 60 minutes until they're fork-tender. When cool, peel skin off beets (you may want to wear rubber gloves as the juice stains your hands).
Garlic: Cut top off head of garlic exposing the tops of garlic cloves. Wrap tightly in aluminum foil. Roast for 30 to 45 minutes or until garlic is soft. It should "ooze" out of the garlic peels. Let garlic cool. Remove cloves to a small container. Be sure to squeeze the head of garlic at the end to get as much roasted garlic as you can. Set aside 4 cloves and store the rest in the refrigerator for 2 weeks or freeze for up to 3 months.
In a food processor, blender or Vitamix, add beets, garlic, chickpeas, lemon juice, tahini, olive oil and salt. Process until smooth (about 2 minutes). Taste and add more lemon juice, olive oil or salt. Add warm water and process another 2 minutes. You want it to be very smooth.
Transfer to a container and refrigerated until ready to serve. Bring to room temperature, drizzle with a good quality olive oil and chickpea crumbs. Serve with crackers, pita or tortilla chips and/or sliced vegetables. Hummus keeps two weeks, refrigerated.
Source:  Variation on recipe from Sarah Waybright of WhyFoodWorks