It wasn't until relatively recently that I liked pears. I'm not really sure why I didn't like them nor do I recall why I started eating them. What I do know is that I "betrayed" my brother-in-law, Colin S, as he is not a fan of pears and he liked that he had an ally in the family. So now he's the only one.
This is a very easy dessert to make. Everything fits into one pan (except the walnuts) and your kitchen smells amazing. It's like the best smelly candle you've ever had. The perfect combination for a chilly fall day.
I had received a bottle of Nocello (walnut and hazelnut liqueur) at an extremely fun "spirited" ladies holiday gift swap last winter that I hadn't yet opened and this provided a great excuse to do so. Don't have any Nocello on hand? No worries as you can substitute any nut liqueur (such as Frangelico or Amaretto) or brandy. These pears paired (pun intended) well with Weckerly's Vanilla Bean ice cream from Philadelphia. 
I dare say that this is a recipe that even a non-pear lover may like. Worse case scenario: rosemary-honey syrup is outstanding on ice cream.
P.S. Colin recently shared this great NPR article with me about pears:  'The Book of Pears': A Love Letter To A Once Pre-Eminent Fruit. Who knew that there were once 500 varieties of pears. A very interesting read. He think s that perhaps with 500 to chose from he may have discovered one he liked.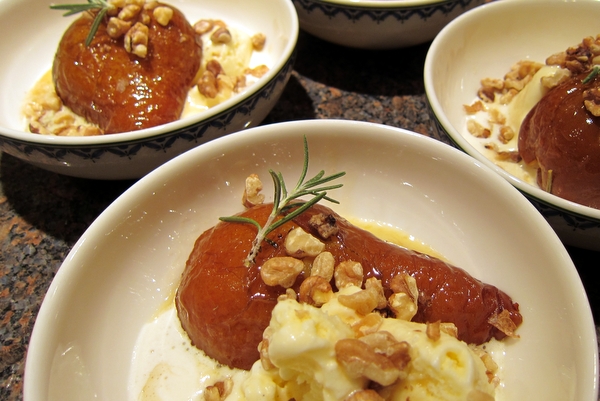 | | | |
| --- | --- | --- |
| Roasted Pears with Rosemary and Honey | | Print |
Ingredients
3 ripe-but-firm Bosc pears
⅓ cup honey
4 sprigs of fresh rosemary
3 tablespoons unsalted butter, cut into 6 pieces
2 tablespoons walnut liqueur (such as Nocello)
1 pint vanilla bean ice cream
⅓ cup walnuts, chopped and roasted
Instructions
Preheat oven to 375°F.
Halve pears lengthwise. Cut out the fibrous sections connecting the stems to the cores, scoop out the cores and trim off the stems. (Use a grapefruit spoon or melon baller and knife)
Heat a Dutch oven or deep, wide sauté pan (you'll need to cover this pan) over medium-high heat.
Add honey and rosemary sprigs and bring to a simmer. Reduce heat to medium-low and continue to simmer, stirring occasionally, until the honey is fragrant and turns a rich amber color, about 3 minutes. Remove pan from heat.
Place the butter pieces in the pan, spacing them evenly. Using tongs, place a pear half, cut side down, on top of each piece of butter.
Cover pan, transfer to the oven and cook for 15 minutes. You can add the walnuts to the oven at the same time in a small pan – roast for 3 to 5 minutes.
Gently turn pears over. Baste with honey mixture and drizzle pears with walnut liqueur.
Return pan, uncovered, to oven and continue to cook until pears are golden brown and tender about 10 to 15 minutes. A paring knife should easily slip through the center of a pear.
Remove pan from oven and let pears cool slightly uncovered in the honey mixture, about 30 minutes.
For serving: In a bowl, place a scoop of vanilla ice cream, top it with a half a pear and some walnuts and a drizzle honey syrup.
Notes
* This recipe fits perfectly in my 5-1/2 quart Le Creuset Dutch oven.
* You can make the pears a few hours in advance. Reheat briefly on top of the stove on medium-low (or in a microwave-safe bowl) so both the honey syrup and pears warm up and the butter "re-melts."
* You may need to adjust the cooking time depending on the ripeness of your pears. This recipe is forgiving even if your pears aren't overly ripe.
* Don't have a walnut liqueur? Substitute any nut liqueur (such as Frangelico or Amaretto) or brandy.
* For a slightly healthier version serve over plain or vanilla Greek Yogurt instead of ice cream
Source:  Adapted from Raquel Pelzel's Williams-Sonoma New Flavors for Desserts (2008)