For Christmas this year we received the most beautiful cookbook – POLPO: A Venetian Cookbook (of Sorts) by Russell Norman. While it arrived in an Amazon box without a gift tag we had a fairly good idea who had sent it – dear Lorenzo M.
We first met Loren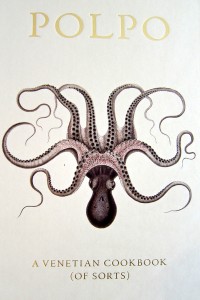 zo back in 1994 when he came to America to spend his final year of high school as an exchange student living with my parents and sister (the only one of us still at home). We've done a pretty good job of staying in touch over the last two decades so were thrilled when a year and a half ago he came back to United States and brought his parents with him (sadly his wife was unable to join them). It was hard to believe that he was now in his mid-30s (which meant that we were that much older, too). This trip not only marked the 20th anniversary of his having come to the states but it also was close to our 20th wedding anniversary. Lorenzo was here for the planning of our wedding but left before the big event. But he remembered and surprised us with this amazing cookbook to celebrate our milestone.
This book is based on the Venetian-inspired restaurant, POLPO, in London's Soho district. Most of the recipes are truly Italian-based but there are exceptions to all rules and this happens to be one of them. Ed and I decided shortly after getting this book that we'd make a meal for my parents from it so Ed set out to select the menu. It's a well known fact that I love potatoes so I was particularly happy when he picked this recipe. Who would have thought that a not-so-Venetian-inspired potato recipe would be one of the best we've ever had?
It really doesn't get much simpler than this recipe – potatoes, extra virgin olive oil, fresh rosemary, flaky sea salt and pepper. There are two keys to these perfect potatoes – peeling them and cooking them twice. By peeling the potatoes you get a more crispy end result. Then you boil the potatoes until they are cooked through (a fork can pierce them) but they are still holding their shape. Finally you roast them in the oven where they get a lovely crispness on the outside but are tender inside. So while it's not a hard recipe you do need some patience and willingness to clean a few pans.
Rarely do we do a trial run of a meal before making it for company but we did in this case thanks to Jonas the Blizzard. My parents made a valiant attempt to make it to our house but 25+ inches of snow prevented them from making it. So we made the meal again (and it was that much better) on St. Valentine's Day. Look for more recipes from this gorgeous book in the future from that meal and others.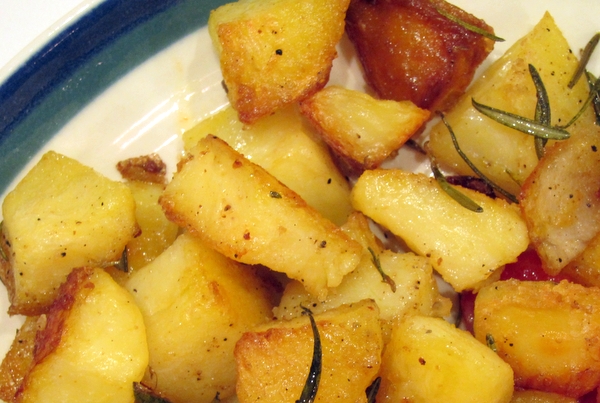 | | | |
| --- | --- | --- |
| Roasted Potatoes with Rosemary | | Print |
Ingredients
3 pounds butter potatoes (such as Yukon Gold or Dutch Yellow)
5 to 7 fresh rosemary sprigs, leaves removed
3 to 4 tablespoons good quality extra virgin olive oil
Flaky sea salt (such as Maldon)
Freshly ground black pepper
Instructions
Peel potatoes and cut into small cubes. Place in a large pot (4 to 5 quarts) and cover with cold water. Cover and bring to boil on high heat. Partially remove lid and turn down to medium heat and cook until potatoes are cooked through and just barely break apart when "cut" with a fork – about 20 to 30 minutes. Drain potatoes in a colander and let sit for 10 minutes so they cool and lose their excess moisture.
While the potatoes are drying preheat oven to 425°F.
Add oil to your baking pan (one large or two smaller ones) and preheat in warm oven for a few minutes. (This makes it easier to coat the potatoes.) Remove pan from oven, toss potatoes with olive oil, rosemary, salt and pepper. Roast potatoes, turning and shaking the pan every 15 minutes for a total of about 45 minutes. They should be cooked through and crispy.
Serve immediately.
Notes
* Need to share your oven? You can cook these at 350°F for about 75 to 90 minutes.
* Not quite ready to serve the potatoes? Leave them in the oven with the heat turned off.
Source:  Adapted from Russel Norman's POLPO: A Venetian Cookbook (of Sorts) (2012)