While I've seen sunchokes in the market for years it wasn't until recently that I started to cook them. Sunchokes (also called Jerusalem artichokes) are best described as having a potato-like consistency, similar to artichokes in flavor and resemble ginger root. Potatoes and artichokes are two of my favorite things so I'm not sure why it took me so long to embrace them.
Sunchokes are the tuber part of a sunflower that is native to eastern North America. Hence the "sun" in the name. While grown originally by native Americans, explorer Samuel de Champlain found them in Cape Cod in 1605 and brought them home to his native France. The origin of the use of the name Jerusalem artichoke is less clear – it could be a corrupted version of the word girasole (Italian for "sunflower") or a nod to the Puritans' reference to the new world as their "New Jerusalem." They got the name "sunchokes" in the 1960s from a produce wholesaler.  
When thinking about how to prepare sunchokes think of them as a potato – they can be roasted, mashed, puréed, etc. Unlike potatoes they can also be eaten raw – I recently shredded raw sunchokes and added them to a burger topping which gave it a bit of crunch.
For this dish you don't need to peel the sunchokes but you do want to make sure to scrub them well. As an aside peeling can be a bit hard as they're quite "knotty." Then you cut them into pieces and roast them like you would potatoes. Once cooked add the grape tomatoes and simple dressing. The end result is a mix of nutty and sweet flavors. A great alternative to a traditional potato dish.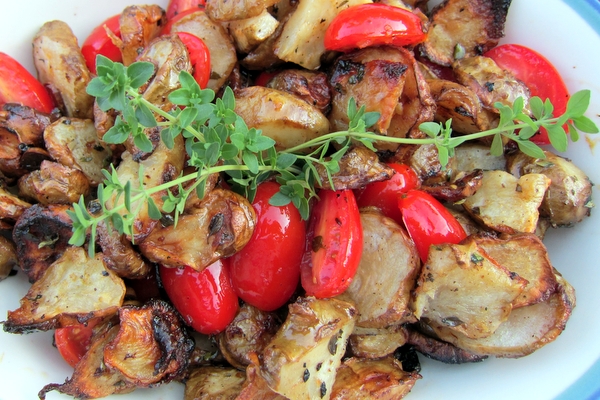 | | | |
| --- | --- | --- |
| Roasted Sunchokes with Grape Tomatoes | | Print |
Ingredients
1-1/2 pounds (24 ounces) small sunchokes, washed, dried and sliced about 1⁄4" thick
4 cloves garlic, sliced
8 sprigs thyme
Zest and juice of 1 lemon
6 tablespoons olive oil (divided)
Sea salt and freshly ground black pepper
1 teaspoon honey
1 pint grape tomatoes, halved lengthwise
Instructions
Heat oven to 425°F.
Toss sunchokes, garlic, thyme and lemon zest with 3 tablespoons olive oil in a bowl. Season with sea salt and pepper. Transfer to a baking sheet or pan.
Bake, stirring occasionally, until tender and beginning to caramelize, 35 to 40 minutes.
Whisk lemon juice, 3 tablespoons olive oil, honey, salt and pepper in a small bowl.
Discard thyme sprigs and transfer sunchokes to a bowl and add tomatoes.
Pour dressing over sunchokes and tomatoes and toss to coat.
Serve warm or at room temperature.
Notes
* Don't slice the garlic too thinly or it may burn while baking. Alternative is to add the garlic about halfway through cooking if this is a concern.
Source:  Variation on recipe from Saveur, March 21, 2013