There are so many good flavors in this dish that I don't even know where to begin – think of a sweet meets spicy meets tangy triangle. What makes it even better is that it's healthy and gluten-free, too.
Start with unpeeled sweet potatoes (the longer and skinnier the better), toss them in honey, spices and olive oil and bake. The finished potatoes are more tender than crunchy. Once out of the oven top them with a lime-yogurt sauce and some scallions.
Why add honey to the already sweet sweet potatoes? This intensifies their caramelization and adds that extra sweetness to go with the spice and acid from the sauce.
These potatoes will go with almost anything but at this time of year they're a perfect accompaniment to your nicely grilled burger or sautéd soft shell crabs. The lime-yogurt sauce is quite versatile and would be great on fish or chicken, too.
I recommend making more potatoes than you think you'll need – you'll thank me when you do because they're just that good.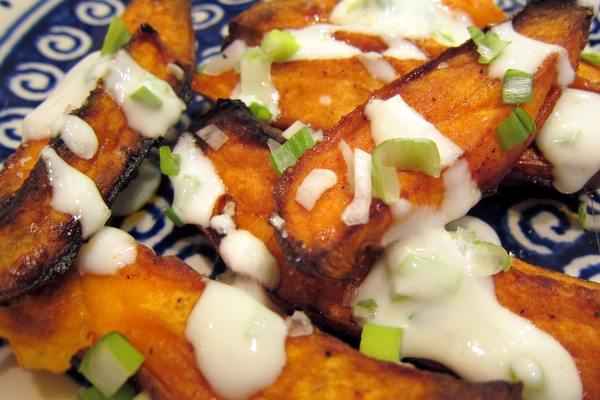 | | | |
| --- | --- | --- |
| Roasted Sweet Potato Fries with Lime-Yogurt Sauce | | Print |
Ingredients
3 large sweet potatoes (long & skinny), with skins
2 tablespoons honey
2-1/2 teaspoons smoked paprika
½ teaspoon cayenne pepper
3 tablespoons extra-virgin olive oil, divided
Sea salt and freshly ground black pepper
6 ounces non-fat Greek yogurt
4 tablespoons fresh lime juice (~2 limes)
2 scallions, thinly sliced (divided)
Instructions
Pre-heat oven to 425°F. Line a large rimmed baking sheet (17" by 11") with aluminum foil.
Cut sweet potatoes lengthwise and then into 6 slices per half (you'll end up with 12 slices/sweet potato).
Put sweet potatoes in a large bowl. Toss with honey, smoked paprika, cayenne pepper, ½ teaspoon sea salt, ½ teaspoon freshly ground pepper and 2 tablespoons of olive oil. Let it sit for 10 minutes or so, tossing once or twice to coat, as the oven heats.
Arrange sweet potatoes (skin side down as much as possible) in a single layer on the prepared baking sheet.
Bake until they are deeply caramelized around the edges and soft when pierced with a fork at their thickest part, approximately 35 to 40 minutes. .
While the sweet potatoes are cooking combine yogurt, lime juice, half of scallions and remaining tablespoon of olive oil in a small bowl. Whisk to combine, then season with salt and pepper to taste. Set aside.
When sweet potatoes are done, transfer them to a serving platter, drizzle lime-yogurt sauce over them and garnish with the remaining scallions, a dash of smoked paprika, cayenne pepper and flaky sea salt. Serve immediately.
Notes
* You can make smaller fries by cutting the longer wedges in half.
* The sugar from the sweet potatoes may "ooze" out and burn a bit (smells like a burnt marshmallow).
* Recipe can be doubled – switch position of pans in the oven halfway through baking.
Adapted from:  Sam Sifton's "A New California Cuisine" in The New York Times (February 18, 2016)