I don't believe that I have ever met an artichoke that I didn't like – especially whole artichokes. As a child my mom always made them for Easter – I can remember her steaming them the night before so they would be nice and chilled the next day. She'd serve them with Hollandaise sauce or mayonnaise for dipping. After college, my roommate, Elisabeth R, and I used to make a meal out of eating a whole artichoke. I went so far as to put a note on a cooked whole artichoke asking if she would be my maid of honor at my wedding! She found it waiting for her in the refrigerator when she came home from her MBA classes. And, Ed's mother introduced me to the Italian way of cooking them – where you place seasoned breadcrumbs between each leaf (a lot of work, but very tasty).
As much as I love dipping the leaves and heart from a steamed artichoke in mayo (much to Ed's dismay), I also know that it isn't a very healthy way to eat an artichoke. So I was thrilled when I came across a recipe to roast whole artichokes in olive oil, garlic and lemon juice. They are very easy to prepare and they taste so good! There's no need to dip them in anything – just eat the leaves and heart on their own. And, if your artichoke has a stem, cut that up in to halves or quarters (lengthwise) and roast them in a separate packet (I learned that trick from my mother-in-law) – more yummy artichoke flavor.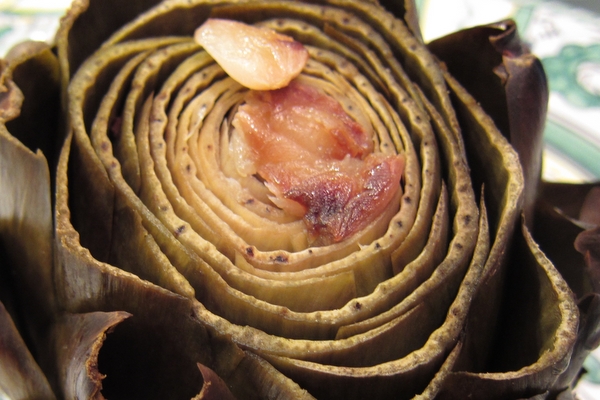 | | | |
| --- | --- | --- |
| Roasted Whole Artichokes | | Print |
Ingredients
2 large whole artichokes
1-2 lemons
2-3 tablespoons olive oil
4-6 garlic cloves, pealed
Sea salt
Special equipment: heavy duty aluminum foil
Instructions
Preheat oven to 425°F.
Slice off the top third of the artichoke.
Cut the stem off right at the base of the artichoke. If more than an inch long, cut the stem into halves or quarters, lengthwise.
Tear off a large piece of heavy duty aluminum foil, smear it with olive oil and place the artichoke on center of foil. Open up the leaves a bit using your fingers. Place garlic cloves on top of artichoke. Sprinkle with salt, squeeze half a lemon and drizzle a bit more olive oil on top.
Once prepared, wrap foil tightly around the artichoke, sealing it well.
Repeat with as many artichokes as you are cooking. Make a separate packet for cut stems with salt, lemon and olive oil.
Place wrapped artichokes (and stem pack) on a baking sheet lined with a piece of aluminum foil (oil may leak out of artichoke packages).
Cook artichokes until leaves are tender and garlic is very soft.
Cooking times: ~90 minutes for large artichokes (small ~60 minutes, medium ~75 minutes and jumbo ~105 minutes)
Once done, remove artichokes from oven and let sit until cool enough to handle. Smear the garlic over the artichokes. Enjoy the leaves first and then the heart (bottom of the artichoke).
Notes
- Increase recipe as needed. - You can always add more garlic cloves.
Source:  Adapted from PinchMySalt.com