My parents recently returned from Italy where they enjoyed a few Aperol Spritzs along with the sights. They thoughtfully texted pictures of their drinks to us – a strong desire to photograph food/drinks must run in the family.
Since their return I've been seeing more references to Aperol than ever before and was thrilled when my dad passed along this take on a traditional Aperol Spritz.
I'd describe Aperol as a cousin of Campari although it's less bitter, is lower in alcohol and lighter in color. This apértif is made from a blend of 30 different ingredients and has remained unchanged since it was first produced in 1919. It's a good balance of bitter and sweet with orange being the most dominant flavor. I'm not partial to overly sweet drinks or wine and I'd say Aperol is just right.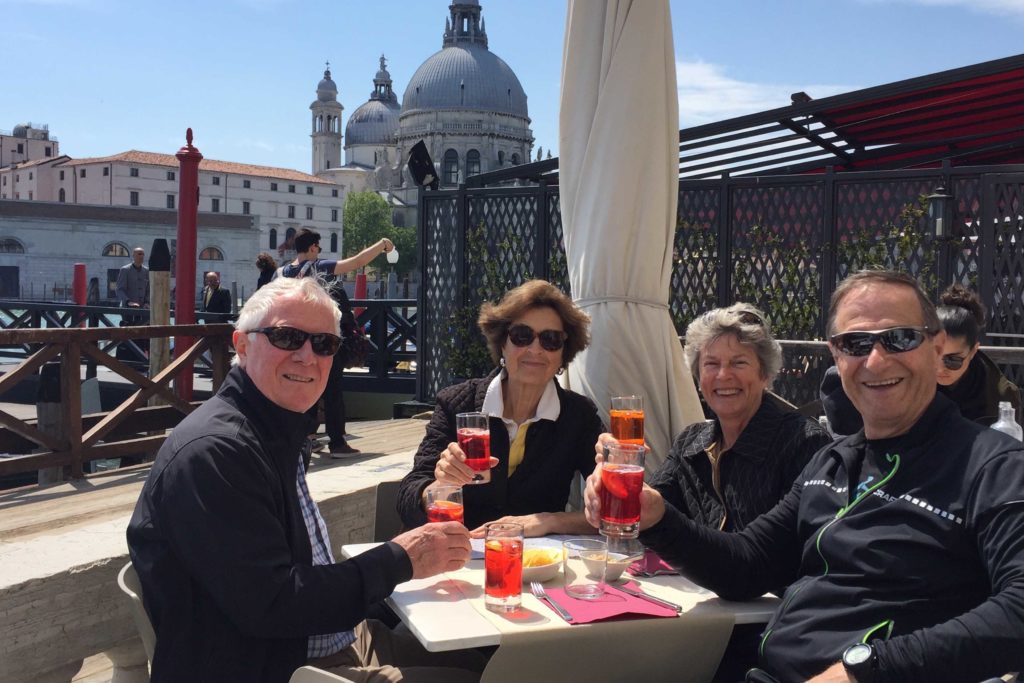 A traditional Aperol Spritz is made with Prosecco, Aperol and soda water. This recipe is a take on that as it replaces Prosecco with rosé wine (everything is better with rosé). While you can use a sparkling rosé, I prefer to use a still wine and get the bubbles from the soda water.
This drink is not only beautiful and easy to make, but also easy to remember how to make. It's a 3:2:1 ratio – 3 parts rosé to 2 parts Aperol to 1 part soda water. You can make a few or a pitcher for a summer gathering. I used a French rosé from the Savoie region of France that borders on Italy so not quite an Italian rosé but close. Any rosé will work but I'm partial to those that are lighter in color.
For my Pennsylvania friends, if you don't have a bottle of Aperol already in your liquor cabinet I'd recommend doing a search to find a Wine & Spirits store that has it in stock. It's not hard to find but not all stores stock it.
Gluten-Free/Wheat-Free Note:  Aperol is safely gluten-free and wheat-free.
Photo: I couldn't resist sharing a picture of my dad and stepmother along with good family friends, Pat D and Jake D, in Venice enjoying their Italian cocktails.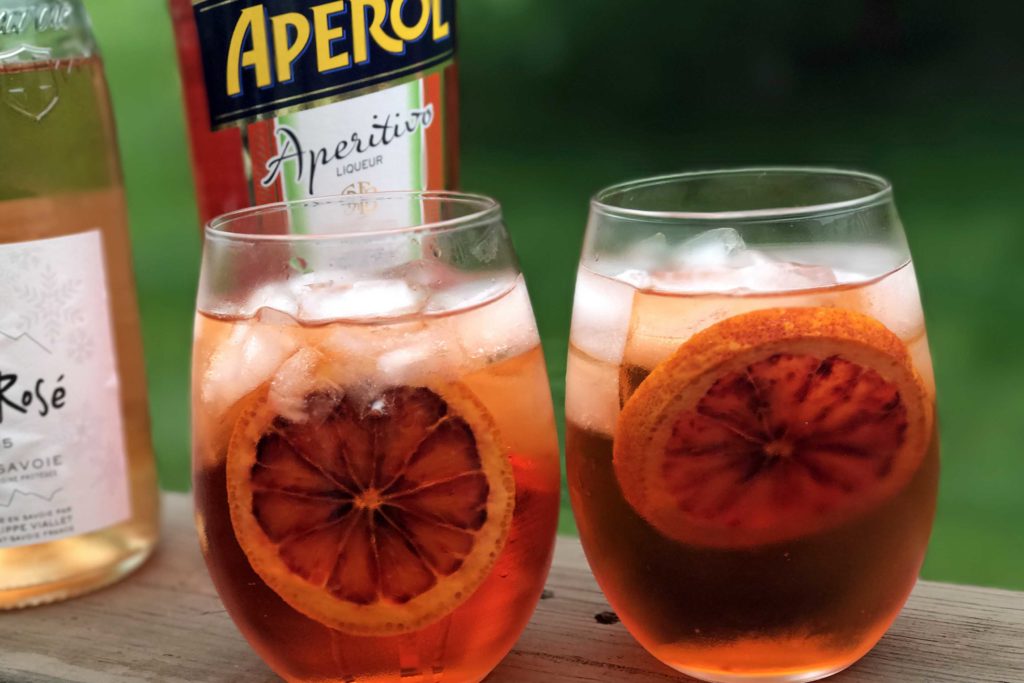 Ingredients
3 ounces dry rosé wine
2 ounces Aperol
1 ounce soda water
Garnish: orange or grapefruit slice
Instructions
Fill wine glass with ice.
Add rosé wine, Aperol and soda water. Stir.
Garnish with orange or grapefruit slice.
Notes
* You could use sparkling rosé wine, desired.
* It's a 3:2:1 ratio (3 parts rosé to 2 parts Aperol to 1 part soda water) if you want to adjust the quantity.
* This makes a lovely pitcher drink for a crowd. Combine 1 bottle of rosé wine (750 ml), ⅔ of a bottle of Aperol (500 ml) and ⅓ of a bottle of soda water (250 ml) in a pitcher (that holds at least 52 ounces). This makes about 8 drinks.