If I were going to write a book on cocktails I'd like to write one like Shake: A New Perspective on Cocktails by Eric Prum and Josh Williams. In addition to lots of tasty concoctions I like how it's arranged by season plus how they use lots of fresh ingredients.
One that is perfectly suited for fall is their Rosemary Maple Bourbon Sour. I read recently that even though maple syrup is harvested in the spring it's thought of as more of a fall-inspired ingredient and I agree. Here the syrup is the sweetener that works well with rosemary and bourbon plus offsets the sour of the lemon juice. Perhaps you'd like to whip up a few to enjoy while watching the leaves change?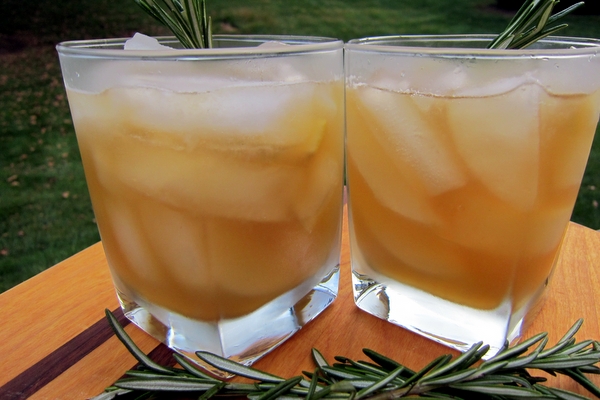 | | | |
| --- | --- | --- |
| Rosemary Maple Bourbon Sour | | Print |
Ingredients
2 large sprigs of fresh rosemary (plus 2 small sprigs for garnish)
2 ounces freshly squeezed lemon juice
4 ounces bourbon
1 ounce dark amber maple syrup
Instructions
Add 2 large rosemary sprigs and lemon juice to a shaker and crush with a muddler (alternately you can crush them with your hand and then add to shaker). Let sit for 30 to 60 minutes for the flavors to develop (this step can be skipped if you don't have time).
Add bourbon, maple syrup and ice to above the level of the liquid and shake vigorously for 15 seconds.
Strain mixture into rocks glasses filled with ice and garnish each with remaining rosemary sprigs.
Source:  Adapted from Eric Prum and Josh Williams' Shake: A New Perspective on Cocktails (2013)