There are two keys to making the perfect mashed potatoes. First you want to start with a few simple ingredients – nice yellow-fleshed potatoes, fresh milk or half and half, good quality butter and extra virgin olive oil, plus coarse sea salt and freshly ground pepper.  To this I've added freshly chopped rosemary that's heated with the milk or half and half to better infuse the flavor.The second key is not over mixing them. I find this is best achieved by using a potato ricer as it gently mashes the potatoes while incorporating air into them to make them fluffy and not too dense.
These potatoes are perfect for a holiday dinner as you can make them up to two days in advance. All that is left to do is heat them in the oven prior to serving for about 30 to 45 minutes. I can attest that they also travel well as I'm usually assigned potatoes for holiday meals with my family.
This recipe is a variation of my Party Potatoes – I like to think of these as the more sophisticated sister (the rosemary dresses them up).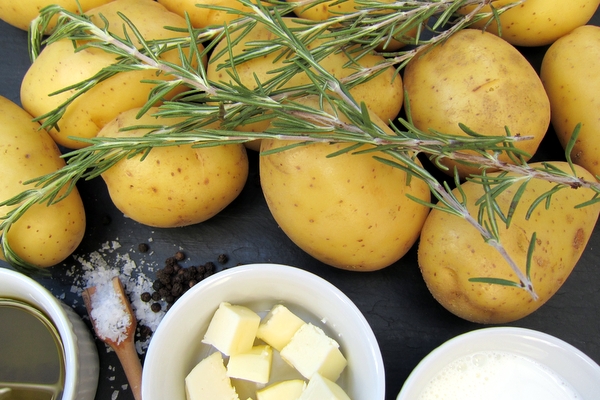 | | | |
| --- | --- | --- |
| Rosemary Mashed Potatoes | | Print |
Ingredients
2 teaspoons minced fresh rosemary
½ cup milk or half and half
5 pounds Yukon Gold or Butter potatoes
3 tablespoons unsalted butter, cut into pieces
3 tablespoons extra virgin olive oil
Coarse sea salt (such as Maldon) and pepper
Instructions
Place milk or half and half and rosemary in a microwave-safe container and microwave on high for 45 seconds; let steep 30 minutes.
Peel potatoes and cut into 1-inch pieces. Place in a large pot (5 to 6 quarts) and cover with cold water. Cover and bring to boil on high heat. Turn down to medium heat and cook until potatoes are cooked through and just barely break apart when "cut" with a fork – about 20 to 30 minutes. Drain potatoes.
Mash potatoes using a potato ricer (which is what I use), electric mixer or by hand (or however you mash potatoes) being careful to not over mash them. Using a wooden spoon, mix rosemary-milk/half and half mixture, butter and olive oil. You may need to add either more milk/half and half and/or olive oil to reach the right creamy consistency. Salt and pepper to taste.
Using olive oil, lightly oil a deep baking dish (3-4 quart) and place potatoes in dish.
Preheat oven to 400°F. Bake potatoes uncovered until heated through about 35 minutes (or 45 minutes if refrigerated).
Notes
* Feel free to add some cheese, too – 8 ounces of crumbled blue cheese or shredded Gruyere mixed in with the rest of the ingredients. It will melt nicely when baked.
* Can be prepared up to 2 days ahead. Cover and refrigerate before baking. Or, you could eat them right away without baking them.
* Have other things in the oven that need to cook at another temperature (such as 350°F)? That's fine, just increase the cooking time.
* These are the perfect potatoes to make for a holiday dinner or large gathering because you can make them ahead, but they taste like they were freshly made.
* Recipe can be adjusted for smaller amounts.