Looking for something special to add to your holiday hors d'oeuvres selections? These walnuts are  perfect – great rosemary flavor with a bit of a kick (thanks to the cayenne pepper). They are great served on their own or as a part of a cheese platter. They also complement cocktails nicely, particularly a St. Germain Sparkler. And, are great added to a salad.
These nuts are so easy to make. At this time of year I make a double batch and freeze them, so I always have some on hand. They also make great hostess gifts.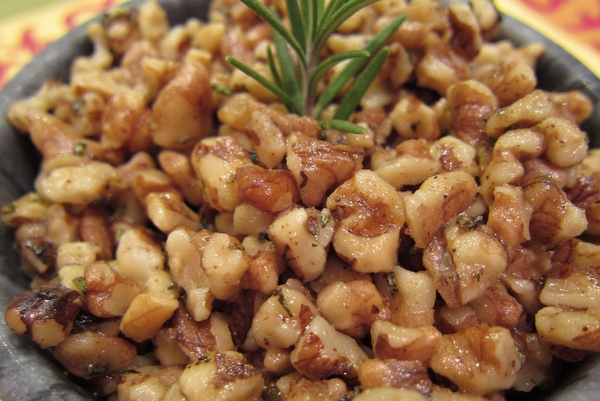 Ingredients
2½ tablespoons unsalted butter
2 teaspoons fresh rosemary, very finely chopped
1 teaspoon fine sea salt
¼ - ½ teaspoon cayenne pepper
2 cups (about 8 ounces) walnut halves or pieces
Instructions
Put a rack in the middle of the oven and preheat oven to 350°F.
Melt butter in a baking sheet with sides in the oven.
Stir in rosemary, salt and cayenne pepper in a small bowl. Add to butter.
Toss walnuts in butter until well coated and spread out into one layer.
Bake for 10 minutes.
Serve warm or at room temperature.
Notes
* Store walnuts in refrigerator for a few weeks or freeze for a few months.
* Never leave nuts cooked in butter or oil out at room temperature for more than a week as they may become rancid.