Looking for a sweet for your sweetheart? Try this five ingredient, super easy to make recipe. Fair warning, your loved one may go through a variety of mixed emotions that range from love to hate. This bark is so addictive that you will likely eat too much but you can't stop yourself (that's the "hate" part). Probably the reason many people refer to it as "pretzel crack."
You'll want to start with small pretzels (regular or gluten-free). Break the pretzels into small pieces by roughly massaging the bag before opening it. I have a preference for dark chocolate but milk chocolate will work, too. Be sure to top it of with a good coarse or flaky sea salt such as Maldon sea salt.
This pretzel bark is great for parties or hostess/teacher gifts. You can make it a few days in advance – just be sure to store it under lock and key in the refrigerator or a cool place as it is likely to disappear.
Big thank you to Caitlin M for the inspiration (feel free to blame her for your addiction!).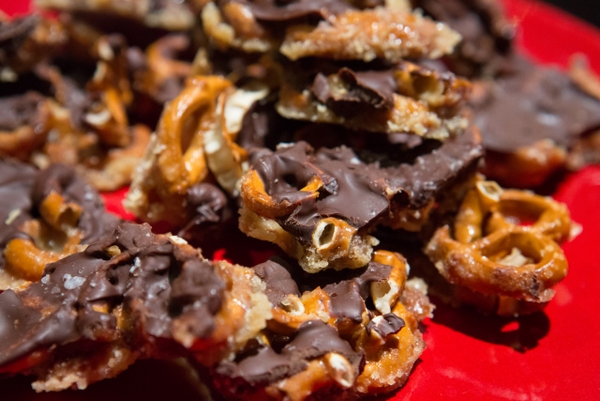 Photo by Betsy Barron Photography
| | | |
| --- | --- | --- |
| Salted Chocolate Pretzel Bark | | Print |
Ingredients
1-8 ounce bag of small pretzels (regular or gluten-free)
1 cup of unsalted butter (2 sticks)
1 cup light brown sugar
2 cups (12 ounces) good quality dark or bittersweet chocolate chips
coarse or flaky sea salt (such as Maldon)
Instructions
Preheat the oven to 375°F. Line a large cookie sheet (17" by 11") with slightly high sides with parchment paper.
Break the pretzels into small pieces by roughly massaging the bag before opening it. Cover the pan with a layer of broken pretzel pieces.
In a small saucepan, melt butter and brown sugar over medium heat. When the mixture starts to gently simmer and bubble, cook for 3 minutes without stirring.
Pour the mixture over the pretzels. It's okay if it's no evenly spaced out as it will even out when heating.
Bake for 5 minutes.
Place pan on a cooling rack and immediately sprinkle chocolate chips evenly over the top. Wait a couple of minutes until the chips start to melt, then spread the chocolate using an offset spatula or rubber spatula evenly over the pretzel-caramel mix.
Sprinkle with sea salt.
Let the bark cool completely and refrigerate for about an hour (or longer if that's more convenient).
Break into uneven pieces.
Store in an airtight container in the refrigerator or a cool place for a few weeks.
Notes
* To make this gluten-free use gluten-free pretzels. I highly recommend
Snyder's of Hanover's
gluten-free pretzels.
* I prefer to use Ghirardelli chocolate. You can use milk-chocolate instead of dark or bittersweet chocolate.