I'd call this a "compromise pasta" in our house. Ed's not so sure about kale, so I figured that if I mixed it with Italian hot sausage (which he loves) that I might have a chance of getting away with it. I didn't even try to sneak in turkey sausage, he's a true Italian and knows the difference.
I was successful! Ed and I both like the pairing of the slightly bitter greens with the spicy sausage.
I procured the main ingredients from Growing Roots' Farmers Market in Malvern, PA. The wonderful sausage came from Canter Hill Farm in Malvern, PA (one town over from where we live so quite local) and the gorgeous greens (both kale and rainbow chard) were from Down to Earth Harvest in Downingtown, PA.  It's great that the rainbow chard adds a bit of color.  The basil I grew from seed in my garden so it was super fresh.
I envisioned this being served with fresh pasta and was happy to find that Wegmans was carrying a new brand of fresh (albeit frozen) gluten-free pasta from Manini's. I used the lemon thyme linguini and it was delicious. They use ancient grains to make their pasta and it's very hard to tell it from a traditional fresh (with wheat) pasta. I'm looking forward to trying their other varieties. This pasta is good enough that you can serve it to your gluten-eating friends and family and they'd be very happy (thus no reason to make to types of pasta).
If you have any leftover sausage and greens you can serve it over brown rice rather than pasta.  I love how this recipe came together with local ingredients and satisfied both of our tastes.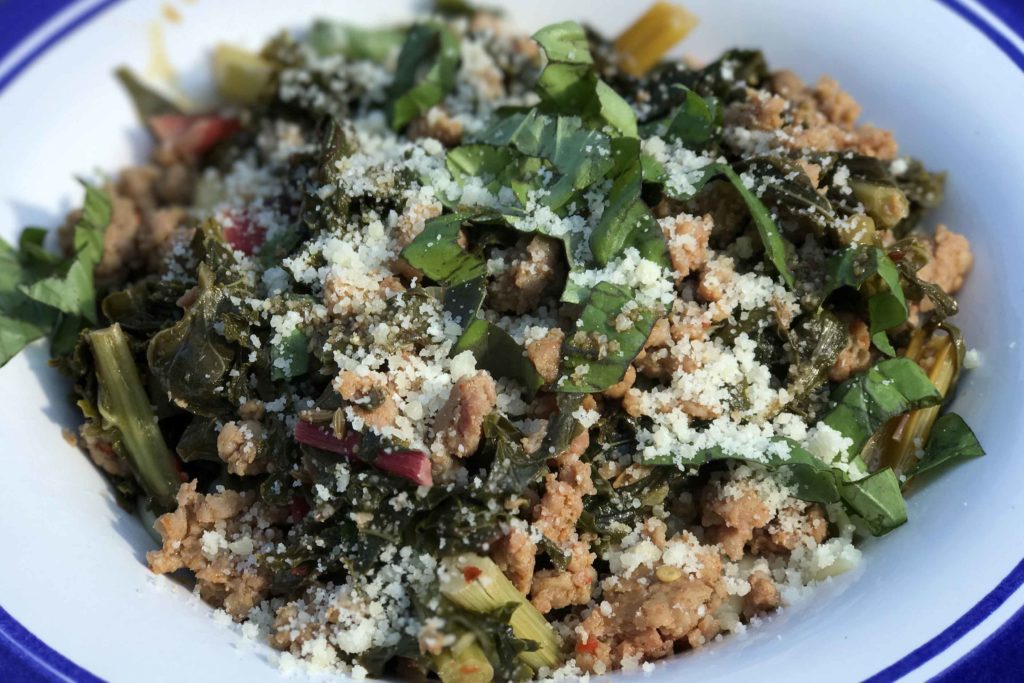 | | | |
| --- | --- | --- |
| Sausage, Kale and Rainbow Chard Pasta | | Print |
Ingredients
1 bunch of kale (~ 1 pound)
1 bunch of rainbow chard (~ ½ pound)
1 to 2 tablespoons olive oil
½ cup white wine
6 garlic cloves, minced
1 pound hot Italian sausage, casings removed
1 big handful of fresh basil, cut chiffonade-style, divided in half
Grated Italian cheese, such as Pecorino Romano
1 pound pasta
Instructions
Roughly chop kale. Remove stems (below the leaf) from rainbow chard and chop. Roughly chop rainbow chard leaves.
In a large sauté pan or pot (something you can cover), heat olive oil over medium heat. Add kale and rainbow chard stems. Sauté for about 3 minutes, stirring frequently. Add rainbow chard leaves, wine, garlic, salt and freshly ground pepper. Toss to combine. Cover pan and cook until softened – about 4 minutes, stirring a few times to prevent sticking. Remove lid and cook off any excess liquid for about 1 to 2 minutes (if needed). Transfer greens to a plate.
Heat the same pan over medium heat. Cook the sausage for about 10 minutes or until heated through, breaking it up with a wooden spoon. Drain any excess fat.
Add greens mixture to the pan with the sausage along with half of the basil. Toss to combine.
Divide cooked pasta between four bowls and top with sausage, kale and rainbow chard mixture. Top with a sprinkling of cheese and fresh basil. Serve immediately.
Notes
* If you have leftovers any leftover sausage and greens it goes well over brown rice, too.