I adore a good food coincidence story. I had saved this recipe for Shakshuka from The New York Times with every intention of making it but like so many other recipes it hadn't floated to the top. Then my sister, Dixie J, texts me a picture of the exact same recipe but she's one step ahead of me as she'd already prepared it. She was gushing about how good it is was so it moved to the top of the "pile." This is how you share food when you live 3,000 miles apart.
Shakshuka originated in Northern Africa but like so many dishes of that region it has spread thought out the Middle East. It's a staple in Israel. While not traditional the addition of feta adds a bit of creaminess (my favorite feta is Valbreso from France).
Dixie sure was right. It's a lot of simple ingredients that come together to form something magnificent. It's not difficult to make but do allow about an hour total for cooking plus a few more minutes for prep. The key is letting the onions and peppers cook down so they are soft and in the case of the onions, golden. I used both a red and green pepper. The green one was from my Aunt Susie M's garden – the last of her 2015 harvest – so it was extra special.
I recommend serving this with some good crusty bread to sop up the sauce and egg yolks. We like to have this for dinner (leftovers are just as good) but it also makes a great brunch or lunch main dish. You could make the sauce ahead of time. If you do reheat it in the pan on top of the stove before adding the eggs.
Not only is Shakshuka delicious to eat but it's also very fun to say!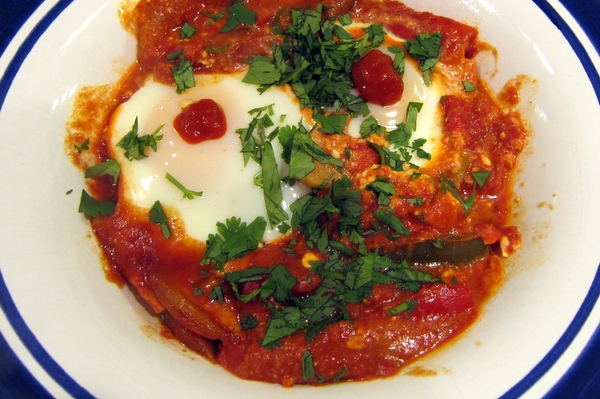 | | | |
| --- | --- | --- |
| Shakshuka (Baked Eggs) with Feta | | Print |
Ingredients
3 tablespoons extra-virgin olive oil
1 large onion, halved and thinly sliced
1 large red bell pepper, seeded and thinly sliced
1 large green pepper, seeded and thinly sliced
3 garlic cloves, thinly sliced
1 teaspoon ground cumin
1 teaspoon sweet paprika
¼ teaspoon cayenne, or to taste
1 (28-ounce) can whole plum tomatoes with juices, coarsely chopped (preferably San Marzano)
¾ teaspoon salt, more as needed
¼ teaspoon black pepper, more as needed
5 ounces high quality feta cheese, crumbled (about 1-1/4 cups)
6 large eggs
Chopped cilantro, for serving
Hot sauce, for serving
Crusty bread, for serving
Instructions
Heat oven to 375°F.
Heat oil in a large oven-safe skillet over medium-low heat.
Add onions and peppers. Cook gently until very soft, about 20 minutes (onions should be golden).
Add garlic and cook until tender, about 1 to 2 minutes.
Stir in cumin, paprika and cayenne, and cook 1 minute.
Pour in tomatoes and season with ¾ teaspoon salt and ¼ teaspoon pepper; simmer until tomatoes have thickened, about 20 minutes.
Stir in crumbled feta.
Gently crack eggs into skillet over tomato sauce. Season with salt and pepper.
Transfer skillet to oven and bake until eggs are just set, 7 to 10 minutes.
Sprinkle with cilantro and serve with hot sauce. Serve immediately.
Notes
* You could make the sauce ahead of time. If you do reheat it in the pan on top of the stove before adding the eggs.
* My favorite feta is actually French – Valbreso. Wegmans sells it in a block and crumbled.
* You could add two more eggs and easily serve 4 people.
Adapted from:  Melissa Clark's "A Rich Egg Dish That Satisfies" in
The New York Times
(May 3, 2013)