Going to a real New England clam bake is on my bucket list. I think I must have read about one as a child and while I'm far into adulthood, the closest I've gotten to going to one was years ago when Rhode Islander Ken D (a dear friend and former colleague) ordered a clam bake in a pot that he had shipped to Pennsylvania for a party. While the food was great it wasn't quite the same the same as dining at the ocean.
Comparing this shrimp and corn boil to a clam bake is probably like saying tomato sauce from a jar is just like homemade sauce. Being married to someone who is half Sicilian, I clearly would never make that comparison. Where that comparison is stronger is using fresh simple ingredients to evoke good flavors. It's also a good (almost) one pot meal as the shrimp and the corn are cooked together. Add a homemade cocktail sauce and a simple salad and you've got a great summer meal.
This week's post features fresh corn from Pete's Produce Farm in West Chester, PA (on the Westtown School's property). Pete Flynn sets aside a portion of his land to grow food for the Chester County Food Bank. In 2016, those 5 acres yielded about 120,000 pounds of fresh produce that the CCFB was able to distribute to those in need – many whom have never had access to fresh fruits and vegetables. I am very fortunate to serve on the Board of Directors of the CCFB with Pete. If you'd to learn more about the CCFB, please contact me.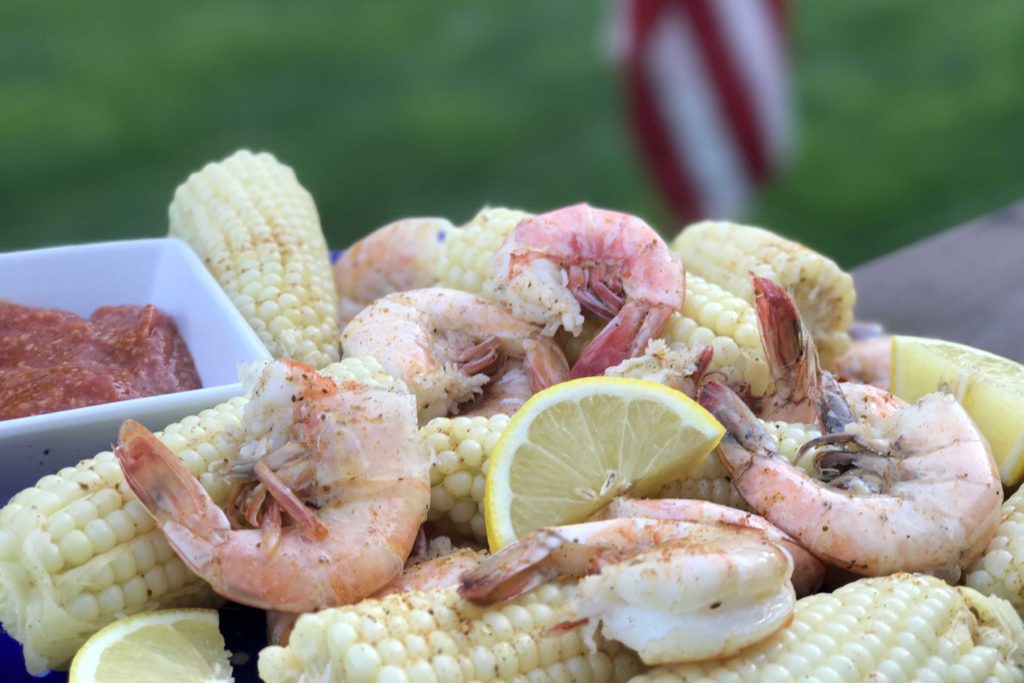 | | | |
| --- | --- | --- |
| Shrimp and Corn Boil | | Print |
Ingredients
½ cup ketchup
1-1/2 tablespoons prepared horseradish
¼ teaspoon Old Bay Seasoning
¼ cup Old Bay Seasoning plus more for serving
½ teaspoon Kosher salt
2 lemons, cut into quarters
4 ears of corn, husked and broken in half
1 pound shell-on large shrimp, cut along the back and deveined
Instructions
In a small bowl stir together ketchup, horseradish and Old Bay Seasoning.
In a 7 quart pot (with lid) add 4 quarts of water, Old Bay Seasoning, Kosher salt and 1 lemon. Cover and bring to a boil on high heat.
Add corn and cook for 3 minutes, uncovered.
Add shrimp (with shells), cover and turn off heat. Let sit for 3 minutes until shrimp is poached (cooked).
Pour contents of pot into a large colander to drain. Spread corn and shrimp on a large platter and sprinkle with Old Bay Seasoning and garnish with the remaining uncooked lemon slices.
Serve immediately.
Notes
* Recipe can be doubled – double ingredients and use a larger pot plus add an extra quart of water.