We've been making a variation of this recipe for 15 or so years and it has evolved over time to fit our "health" needs. The original recipe called for a half a stick of butter and over the years we've split that into two tablespoons of butter and two tablespoons of olive oil. Now we're down to one tablespoon of olive oil and it still tastes great.
We have always served it with a crusty loaf of bread to sop up all of the good tasty sauce (and to cool your mouth a bit as the chilies can be spicy).  Just this week we adapted it to suit our wheat-free needs by serving it on a mound of homemade (gluten-free) polenta (instead of with bread). We both agreed that it was a great update as the sauce made the polenta more moist and flavorful.
This makes for an easy and very flavorful main course – just add a salad to it.  To be creative with appetizers, think of serving this with toasted baguette slices. Or, as David of Cocoa & Lavender (a wonderful food blog) just recommended, try serving the shrimp in corn tortillas with some taco fixings (avocado and cilantro for example).
Wine Pairing:  Ed picked out a great Washington state Syrah from Va Piano which paired nicely with the spicy shrimp.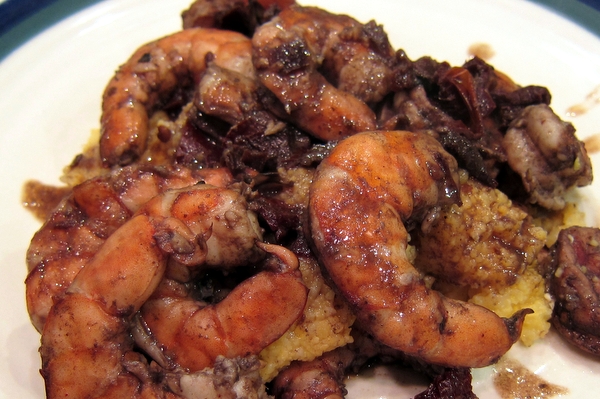 | | | |
| --- | --- | --- |
| Shrimp with Adobo Sauce and Polenta | | Print |
Recipe type:
Main Dish, Appetizer
Serves:
4 as a main course
Ingredients
1 tablespoon olive oil
¼ cup dry red wine
1-1/2 tablespoons Worcestershire sauce
1 to 2 canned chipotle chiles in adobo, minced, plus 2 to 3 teaspoons adobo sauce
1 large garlic clove, minced
½ teaspoon sea salt
1-1/2 pounds medium shrimp, shelled
1 cup dried polenta, cooked according to the package
Instructions
Preheat oven to 400°F.
Mix olive oil, red wine, Worcestershire sauce, chipotle chilies, adobo sauce, garlic and salt in a medium bowl.
Toss shrimp with sauce and place in a large shallow baking dish.
Bake in middle of oven until shrimp are just cooked through, 10 to 12 minutes.
Divide polenta between four plates and cover with shrimp and sauce.
Notes
* Not in the mood for polenta? Serve with some good bread to soak up the sauce. Add a green salad for an easy meal.
* If you make less shrimp, still make the same amount of sauce as it's so good.