This summer we meet up with our friends from Arizona, Joel, Hope and Payton D, in Washington, DC for a weekend of sightseeing and catching up. We had some great food in DC but the best meal was at their friends' Sophia and John B's house in McLean, VA.
Hope warned us to come hungry as Sophia can't help but make a lot of food when having company. It turned out to be very good advice as everything was wonderful but the entrée was our favorite. She had started cooking these amazing ribs early in the day so by the time we sat down to dinner they were not only falling off the bone but were also very, very flavorful. As we were driving back to our hotel that night Ed asked me to reach out to Sophia for the recipe and then he reminded me a few days later. Needless to say I did secure the recipe so that I could make them for us at home.
We procured some pork baby back ribs from our favorite local butcher (Worrell's in Malvern, PA) and broke out the slow cooker. Don't be turned off by the somewhat long ingredient list as once you taste these ribs you'll be glad that you got every last one. These ribs spend most of the time in the slow cooker and are finished off under the broiler. They were almost falling off the bones before I put them in the broiler which was fine with me as it just made them that much easier to eat. Don't be afraid to use your fingers to eat this meal.
Gluten-Free/Wheat-Free Options: Did you know that soy sauce contains wheat? Look for gluten-free hoisin sauce (there's soy sauce in hoisin sauce) and gluten-free soy sauce or gluten-free tamari for this recipe. Tamari is typically gluten-free but double check the label. Joyce Chen produces a good line of gluten-free products. As long as it is gluten-free I use soy sauce and tamari interchangeably. If you run into me in a sushi restaurant it's very likely that I am traveling with my own bottle of tamari (one can never be too sure!). BYO takes on a whole new meaning.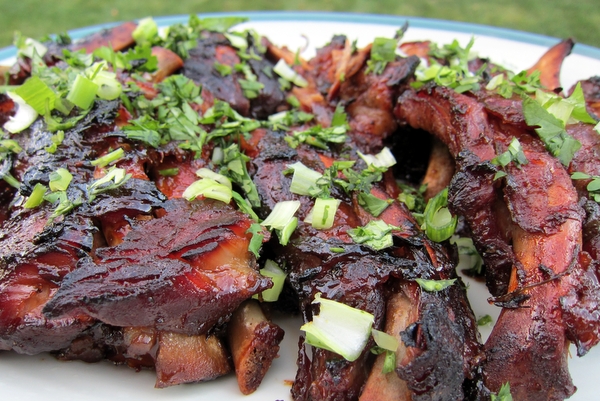 | | | |
| --- | --- | --- |
| Slow-Cooker Asian Ribs | | Print |
Ingredients
1 cup hoisin sauce
1 cup sugar
½ cup soy sauce
½ cup dry sherry
½ bunch fresh cilantro (separated – stems coarsely chopped and leaves minced)
8 scallions (separated – whites coarsely chopped and green thinly sliced)
3 tablespoons ginger, minced
6 garlic cloves, minced
zest from one orange
1-3/4 teaspoons cayenne pepper
6 pounds pork baby back ribs
vegetable oil spray
1 10 ounce jar of red currant jelly (~3/4 cup)
½ cup cider vinegar
Instructions
Combine hoisin sauce, sugar, soy sauce, sherry, cilantro stems, scallion whites, ginger, garlic, orange zest and 1-1/2 teaspoons cayenne pepper in a bowl. Season ribs with salt and pepper and arrange standing upright in a slow cooker, with meaty sides facing away from the sides. Pour sauce over ribs, cover and cook until ribs are tender, 6 to 8 hours on low.
Position oven rack 10 inches from the broiler element and preheat broiler. Line a large baking sheet with aluminum foil and place an oven-safe rack on top of baking sheet. Coat rack with vegetable oil spray. Carefully transfer ribs, meaty side down, to rack on prepared baking sheet and tent with foil (it's okay if some of the meat falls off the bones). Let braising liquid from slow cooker settle for 5 minutes. Remove fat from surface using a large spoon (alternately you can use a gravy separator).
Strain 3 cups of braising liquid into a medium saucepan – discard the remaining liquid. Whisk in jelly, vinegar, remaining ¼ teaspoon cayenne pepper and cilantro leaves. Simmer until thickened and measures reduced by about a cup, about 15 to 20 minutes. Season with salt and pepper to taste.
Brush ribs with some sauce and broil until beginning to brown, 2 to 4 minutes. Flip ribs over, brush with more sauce and continue to broil until ribs are well browned and sticky, 9 to 12 minutes longer, brushing with additional sauce every few minutes.
Transfer ribs to a serving plate. Sprinkle with scallion greens and serve with remaining sauce.
Notes
* For a gluten-free version use gluten-free hoisin sauce and gluten-free soy sauce or gluten-free tamari in place of traditional soy sauce.
* Minimum slow cooker size for a full recipe is 5-1/2 quarts. Ribs will be tightly packed. Standing them up means they don't sit in the fat from the meat.
* Depending on the size of your oven you may need to do the broiling step in two batches. Tent the first batch after you've broiled it.
* Recipe can be cut in half.
Source:  Adapted from America's Test Kitchen's Slow Cooker Revolution Volume 2: The Easy-Prep Edition (2013)