My foodie friend, Kim T, first made this for me when I had foot surgery many years ago.  I immediately asked for the recipe as it was so good and flavorful that I knew I had to add it to my repertoire.  I've adapted it a bit by adding more artichokes plus some fresh herbs. Don't be surprised by the amount of black pepper – part of the spice comes from that (plus the red pepper flakes).
Kim made it for me with tortellini so that has always been my go-to pasta for this recipe, but it really works with any pasta. Years ago Trader Joe's used to make a frozen artichoke tortellini which I used with this sauce – that was divine. The more artichokes the better in my book. I like to double this recipe so that I can eat some of the sauce fresh and freeze some as well. It is also equally good served straight from the stove or at room temperature.
At some point I realized that the recipe had originated in The Silver Palate Cookbook which is a treasure of great recipes, so it's not surprising that I liked it so much. I recently told Kim this and she had never realized its origin as a friend had passed along the recipe to her.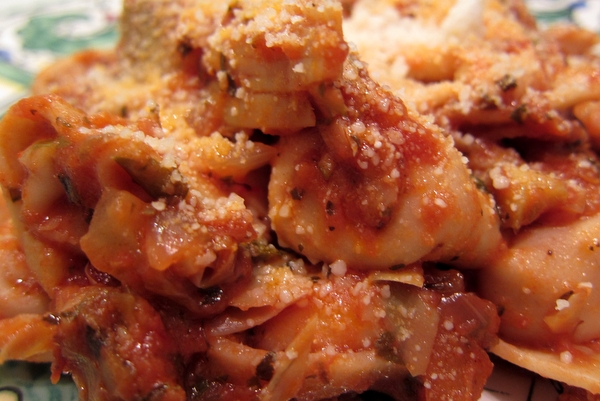 | | | |
| --- | --- | --- |
| Spicy Artichoke Sauce with Tortellini | | Print |
Serves:
8 (2 pounds of pasta)
Ingredients
2 tablespoons extra virgin olive oil
1 large onion, chopped
4 cloves garlic, finely chopped/minced
¼ cup basil (dried), plus a handful of fresh basil, chopped (if you have it)
½ tablespoon oregano (dried), plus a handful of fresh oregano, chopped (if you have it)
½ cup Italian parsley (fresh), chopped
⅛ - ¼ teaspoon red pepper flakes (to taste)
1 large can crushed tomatoes (28 ounces)
1 teaspoon salt
1 tablespoon black pepper, freshly ground
2 jars marinated artichoke hearts, halved or quartered; drained and reserve marinade (about 12 ounces)
1 can plain (packed in water) artichoke hearts (8-10 count), drained and chopped
¼ cup Romano cheese, grated
2 pounds of cheese tortellini or other short pasta
Instructions
Heat olive oil over medium heat in a large sauce pan.
Add onion, garlic, basil, oregano, parsley, and red pepper flakes and cook for about 5 minutes until onion is soft.
Add tomatoes, salt and pepper and simmer uncovered about 45 minutes.
Add artichoke marinade only; simmer 30 minutes.
Stir in artichokes (marinated and plain) and simmer about 20 minutes.
Add Romano cheese and season to taste.
Cook pasta according to directions.
Serve hot or cold over tortellini or short pasta.
Notes
* Recipe can easily be doubled or tripled.
* Sauce can be frozen once it cools.
* If you can find artichoke tortellini, substitute it for the cheese tortellini.
Source:  Adapted from Julee Rosso and Sheila Lukins' The Silver Palate Cookbook (1982)