We received a very thoughtful hostess gift from Nichelle S and John S when they recently came to a dinner party at our house. Nichelle and John knew that I had just posted something using blood oranges and that I was "testing" something made with grapefruit that night on my dinner guests. Armed with this knowledge they brought us Blood Orange Olive Oil and Grapefruit White Balsamic Vinegar.
These flavors reminded me of a salad we used to make from the Williams-Sonoma Kitchen Library Salads (1993) cookbook we received as a wedding gift. It used whole slices of grapefruit and olives along with a cider dressing. It had been years since I'd made it and decided to try out a more "modern" version using the wonderful olive oil and vinegar we received. To this salad I also threw in some small chunks of Manchego cheese which pairs nicely with the fruity dressing and olives in the salad.
Have you ever visited an olive oil and vinegar taproom? I'm like a kid in a candy store at these places, but it can also be a bit overwhelming. Perhaps this post will help "guide" you a bit when you visit one of these wonderful stores. As long as you have the ingredients, this is a very easy salad to make. And, it was a big hit both on a visit to meet our new niece (by her parents) and at my last Gourmet Dinner Club gathering.
Here are some nearby (greater Philadelphia area) specialty olive oil and vinegar stores (some with an online presence, too) – A Taste of Olive, Bella Oliva Olive Oil & Vinegar Taproom and Seasons Olive Oil & Vinegar Taproom.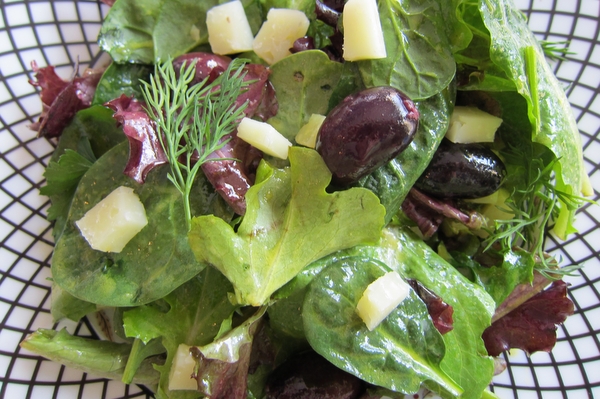 | | | |
| --- | --- | --- |
| Spring Mix Salad with Olives and Manchego and Orange-Grapefruit Dressing | | Print |
Ingredients
5 ounces spring mix with fresh herbs
1 cup Kalamata olives
½ cup small cubes/dice Manchego El Trigal (or any other Manchego cheese)
2 tablespoons Grapefruit White Balsamic Vinegar
2 teaspoons Dijon mustard
6 tablespoons Blood Orange Olive Oil
Pinch of Maldon salt or coarse sea salt (crushed)
Freshly ground black pepper
Instructions
Whisk vinegar, mustard, salt and pepper in a bowl or measuring cup.
Add oil in a slow stream, whisking until emulsified (well blended).
Mix spring mix, olives and cheese in a bowl. Toss with enough dressing to coat.
Notes
* It's likely you'll have some extra dressing – it keeps for a few months in the refrigerator.
* Double or triple the recipe as needed.