First let's establish that this recipe is a take on traditional paella. It's not cooked outdoors in a big flat pan over a wood burning fire in Spain. It is cooked in one pan on top of the stove in your kitchen with many of the traditional ingredients found in Valencian paella including saffron, paprika, garlic, rice and chicken.
Now that we've gotten that out of the way, let's talk about how good it is. It smells good, tastes good and even looks good. The base is a traditional Spanish sofrito (onion, garlic, tomatoes and paprika) which is cooked until all of the flavors meld together. Add to that the saffron-flavored chicken stock, rice and meats.
You don't want to rush the cooking so make sure you take enough time with each step. Under cooked rice will not make anyone happy. If you're able to find bomba rice, it's worth the cost (you can order it through Amazon or look for it at Wegmans). It's what most paella chefs use as it's harder to overcook. I've also used a long grain parboiled Spanish or Mexican rice and it's worked just fine.
This recipe also veers from the original in that seasoned beaten eggs are added to the top to provide a nice crust. This recipe came from Diana Henry's A Bird in the Hand and in it she expresses that this was a new way of preparing paella for her. I agree with Diana in that it really works and provides a nice "crunch" to the top layer.
So while this recipe may stray from the original it tastes amazing (Ed really couldn't stop saying how good it was), is pretty easy to make and is all cooked in one pan (except for the pot used to warm the stock). Plus it's both gluten-free and wheat-free (please check the packaging on the sausage to make sure).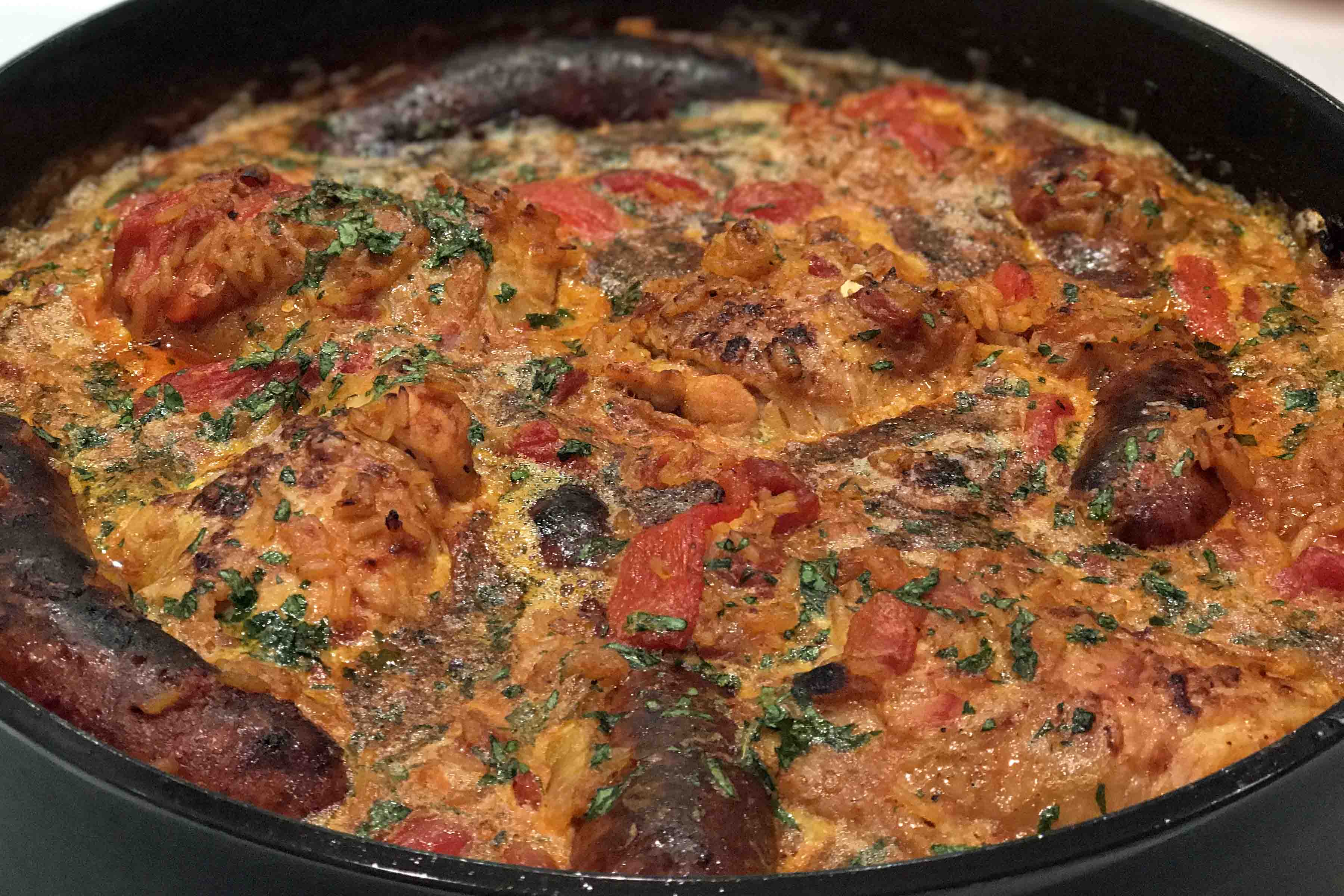 | | | |
| --- | --- | --- |
| Stovetop Paella with Chorizo and Chicken | | Print |
Ingredients
4 cups chicken stock
¼ teaspoon saffron threads
2 tablespoons olive oil
4 skin-on, bone-in chicken thighs
1 pound chorizo or other spicy sausage
1 large onion, coarsely chopped
4 garlic cloves, minced
1 14.5 can of diced tomatoes (with juice)
1 tablespoon smoked paprika
1 teaspoon red pepper flakes
1-1/2 cups paella rice (see note)
12 ounces roasted red peppers, drained and sliced
4 eggs
1 tablespoon chopped flat-leaf parsley
Zest from half of a lemon
Generous grating of nutmeg
Lemon wedges for serving
Instructions
Bring chicken stock to a boil in a medium saucepan. Stir in saffron threads, remove pan from heat and set aside.
In a paella pan or large deep skillet (one that's at least 12" in diameter and oven safe), heat olive oil over medium-high heat. Season chicken thighs with salt and pepper; brown them on both sides, about 5 minutes. Remove chicken from pan and place on a plate. Add chorizo links to pan and brown them on all sides, about 5 minutes. Remove sausage from pan and add to the plate with chicken.
Discards all but 1-1/2 tablespoons of fat from the pan (add more olive oil if needed). Add onion and cook for 5 to 7 minutes over medium-high heat until softened. Add garlic and cook for another 2 minutes. Add tomatoes (with juices) and cook for 4 minutes. Stir in paprika and red pepper flakes and cook for 1 minute while stirring. Add chicken-saffron stock and stir. Return chicken and sausage to pan. Raise heat to high and bring to a simmer. Turn heat down to low and for 10 minutes.
Pour rice all over chicken-sausage mixture. Season well with salt and pepper.
Turn heat to medium-low and cook for 15 minutes without stirring (the rice cooks better if left alone).
Tuck red peppers around the chicken, sausage and rice. Cook for another 10 minutes. Preheat oven to 425°F at this time.
At the end of 25 minutes of cooking time, the rice should be tender and the stock should be absorbed. If the rice isn't tender and there's no stock left add a half cup more of stock or water – cook rice is tender (adding more liquid if necessary). If rice is tender and there's still stock, continue to cook until it's absorbed (it shouldn't take too much longer).
In a bowl, lightly beat eggs with parsley, lemon zest, nutmeg, salt and pepper. Pour egg mixture over the chicken-sausage-rice mixture. Tilt the pan from side to side to ensure an even layer of egg. (You want it to form a crust on top rather than seep into the paella.) Place pan in the oven for 5 minutes or until the eggs are set. The top should be set and crusty.
Serve with lemon slices.
Notes
The best rice for paella is Bomba from the town of Calasparra in Spain. You can order it online and I've also found it at Wegmans. If you can't find it use a long grain parboiled Spanish or Mexican rice such as Goya's Golden Canilla Dorado. Some say you can use arborio rice (used in risotto) but I've never tried it.
Source:  Adapted from Diana Henry's A Bird in the Hand (2015)