For those of you in the Mid-Atlantic states you may be counting the days like me until the locally grown strawberries make their way to the farmers markets. It's a small window but one worth planning for. I like to make some treats with the fresh berries but also to freeze a few pints so I have them on hand beyond the short season.
Clafoutis (or Clafouti) hails from the Limousin region of France in the center of the country (Limoges porcelain also comes from this area). It's traditionally made with cherries covered in a liquid batter and sprinkled with powdered sugar. It's a simple recipe to make and is meant to show off the fruit. When using strawberries they cook down into a jam-like consistency that complements the cake quite nicely. Finish it off with some powdered sugar or if you're feeling fancy a bit of freshly whipped cream or vanilla ice cream.
Each year for my Christmas stocking Ed gets me a random kitchen gadget – often times one that I don't even know that I need. A few years ago that happened to be a strawberry huller. It makes cooking with (or freezing) strawberries so much easier plus you ensure that you save as much fruit as possible.
Have some extra strawberries?  Try out this Strawberry-Mint Syrup – perfect for cocktails and pancakes, plus it freezes well. Or just hull the strawberries and freeze them for future use (such as a chocolate-strawberry protein shake).
Gluten-Free/Wheat-Free Option:  I used gluten-free flour (Cup4Cup Multipurpose Flour) in place of all-purpose flour to make this a gluten-free dessert.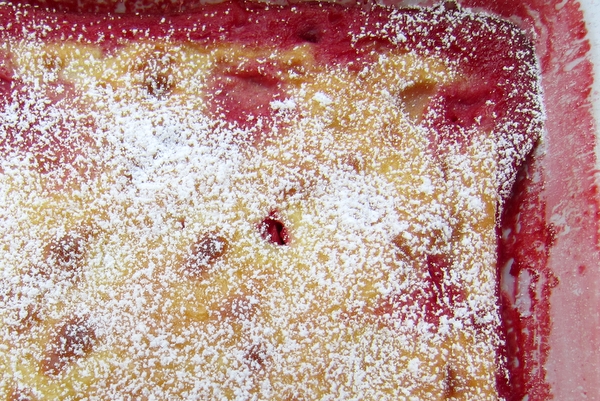 | | | |
| --- | --- | --- |
| Strawberry Clafoutis | | Print |
Ingredients
¼ cup (1/2 stick) unsalted butter, divided
1-1/2 pint (3 cups or 20 ounces) fresh strawberries
½ cup all-purpose flour (or gluten-free flour)
⅓ cup whole blanched almonds
½ cup sugar
1 tablespoon cornstarch
A pinch of salt
3 large eggs
¾ cup milk
1 tablespoon light rum (optional)
Powdered (confectioners') sugar for dusting
Vanilla ice cream or freshly whipped cream for topping
Instructions
Preheat oven to 350°F. Grease an 8-inch-square glass or ceramic baking dish with one tablespoon of the butter.
Melt remaining butter in a small heavy-bottomed saucepan over medium heat (or in a small bowl set in the microwave for a 60 to 90 seconds) and set aside.
Rinse the strawberries under cool water (do not soak or they will loose some of their flavor). Drain in a colander for a few minutes. Gently pat dry with a clean dishtowel.
In a food processor or blender, mix together flour and almonds until finely ground. Add sugar, cornstarch and salt and mix again.
Add eggs one by one, mixing thoroughly after each addition.
Pour in melted butter, milk and rum (if using). Mix until well blended. The mixture will be thin, like crepe batter.
Hull strawberries, cut in halves or quarters depending on their size and arrange in a single layer in the prepared dish. Drizzle batter over the strawberries.
Place the dish in oven to bake for 40 minutes, until puffy and set.
Transfer dish to a rack. Let cool to room temperature. Sprinkle with powdered (confectioners') sugar. Serve directly from the baking dish.
Source:  Adapted from NPR's Kitchen Window's "Sweetness of Spring:  Strawberry Clafoutis" (March 22, 2006)