There's no rule that you can only have Mint Juleps in early May. This variation celebrates some of the best that early summer has to offer. It pairs three ingredients that work well together – strawberries, mint and bourbon.
To maximize the sweetness of the strawberries you'll want to start preparing this drink a few hours (or a minimum of a half hour) ahead. By using a simple technique called maceration you let the strawberries release their own natural juices which makea the fruit even sweeter than when freshly cut. To macerate your strawberries cut them into small pieces or slivers, sprinkle the sugar on top of them and stir every few minutes (no need to add any additional liquid). The longer you do this the more juice is released and the deeper the color of your cocktail.
You end up with a flavorful strawberry-mint syrup to mix with bourbon. This is the perfect drink to sip on a warm afternoon.
Gluten-Free/Wheat-Free Options: While the ingredients used to make bourbon contain gluten many believe that the distillation process removes the gluten. As a result some with gluten sensitivities are okay with bourbon while others are not. If you're concerned use a gold rum (distilled from sugar cane and gluten-free) in place of bourbon.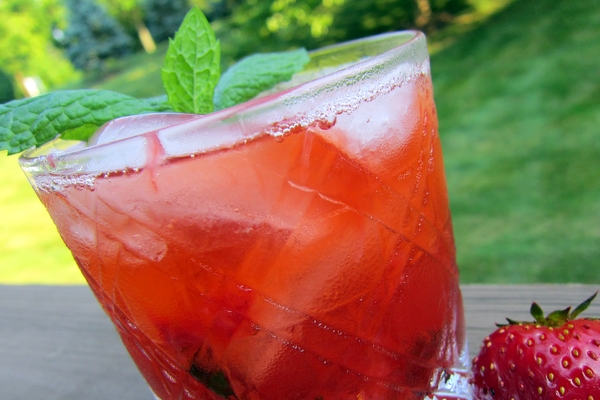 | | | |
| --- | --- | --- |
| Strawberry Mint Julep | | Print |
Ingredients
6 large ripe strawberries
12 mint leaves plus two sprigs for garnish
4 teaspoons sugar
4 ounces bourbon
1 ounce lemon juice
Instructions
Cut strawberries into small pieces. Tear up mint leaves into small pieces.
Divide strawberries, mint leaves and sugar between two old fashioned glasses (or mint julep cups). Stir each glass and let sit for minimum of 30 minutes and up to a few hours at room temperature to release the natural juice from the strawberries.
When ready to serve divide bourbon and lemon juice between the glasses and stir. Add ice to top off glasses and stir one more time.
Garnish each glass with a fresh sprig of mint.