I am very excited about the start of the outdoor local farmers market season. When they open that means that we get access to lots of wonderful locally produced fruit and vegetables (along with meats, cheese, baked goods and so much more). Last summer I made this syrup at the end of the local strawberry season and decided I couldn't share it until the next strawberry season which is almost upon us. I want to give all of my local readers a chance to make this plus hopefully allow for some people who may already be in local strawberry season to do so as well. Of course you could use non-local strawberries or even frozen strawberries (thaw them first) but it may not be quite as good.
I originally made this to add to Prosecco for a Strawberry-Mint Sparkler. But I also froze some of the syrup and shared it later in the summer with my sister-in-law, Annie T, to make some fun cocktails. Annie used vodka as a base and I used gold rum – we then mixed in some syrup and club soda. Tasty! The rum version reminded us of a Strawberry Daiquiri minus the frozen part. My niece, Atlee T, enjoyed it mixed with some club soda and requested it for her pancakes the following morning in place of traditional maple syrup.
One last suggestion – once you've strained the syrup do not throw out the pulp but instead put it on top of vanilla ice cream, mix it with plain yogurt or add it to a smoothie. It's too good to waste it.
The recipe makes quite a lot of syrup. If you think you will not finish it in two weeks then freeze some of it so you can capture that fresh strawberry taste in the off-season.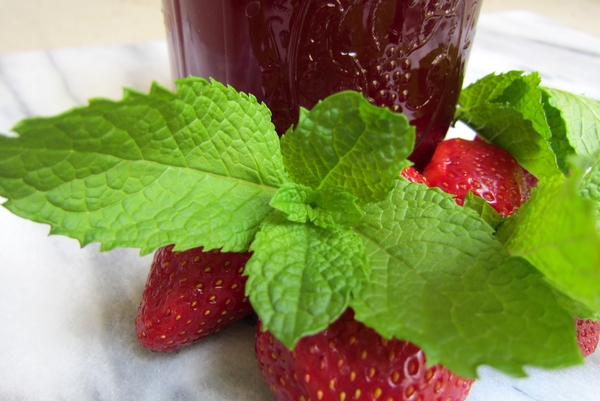 | | | |
| --- | --- | --- |
| Strawberry-Mint Syrup | | Print |
Ingredients
3 cups chopped fresh strawberries (about 1-1/4 pounds)
1 packed cup fresh mint leaves
3 cups water
3 cups Turbinado (raw) sugar
Instructions
Chop strawberries.
Tear mint leaves by hand to release flavors.
In a large saucepan, combine water and sugar over medium-high heat; stir until sugar dissolves.
Add strawberries and bring to a simmer. Reduce heat to medium. Cook for 15 minutes.
Remove from the heat and add mint leaves. Cover and steep for 10 minutes.
Strain syrup and cool completely.
Store in airtight container for up to 2 weeks or freeze.
Notes
* Main ingredient in a
Strawberry-Mint Sparkler
.
* You can use non-local strawberries or frozen (thawed) strawberries in place of the local strawberries.
* Using Turbinado (raw) sugar (raw sugar) makes a caramel color (instead of clear) simple syrup base so the syrup is a bit darker. You can use white sugar if prefer.
* Great as a mixer for cocktails but also mixes well with club soda or as an alternative to maple syrup on pancakes.
* Remaining strawberry-mint pulp is really tasty – serve it on top of ice cream or plain yogurt or put it in a smoothie – do not throw it out!